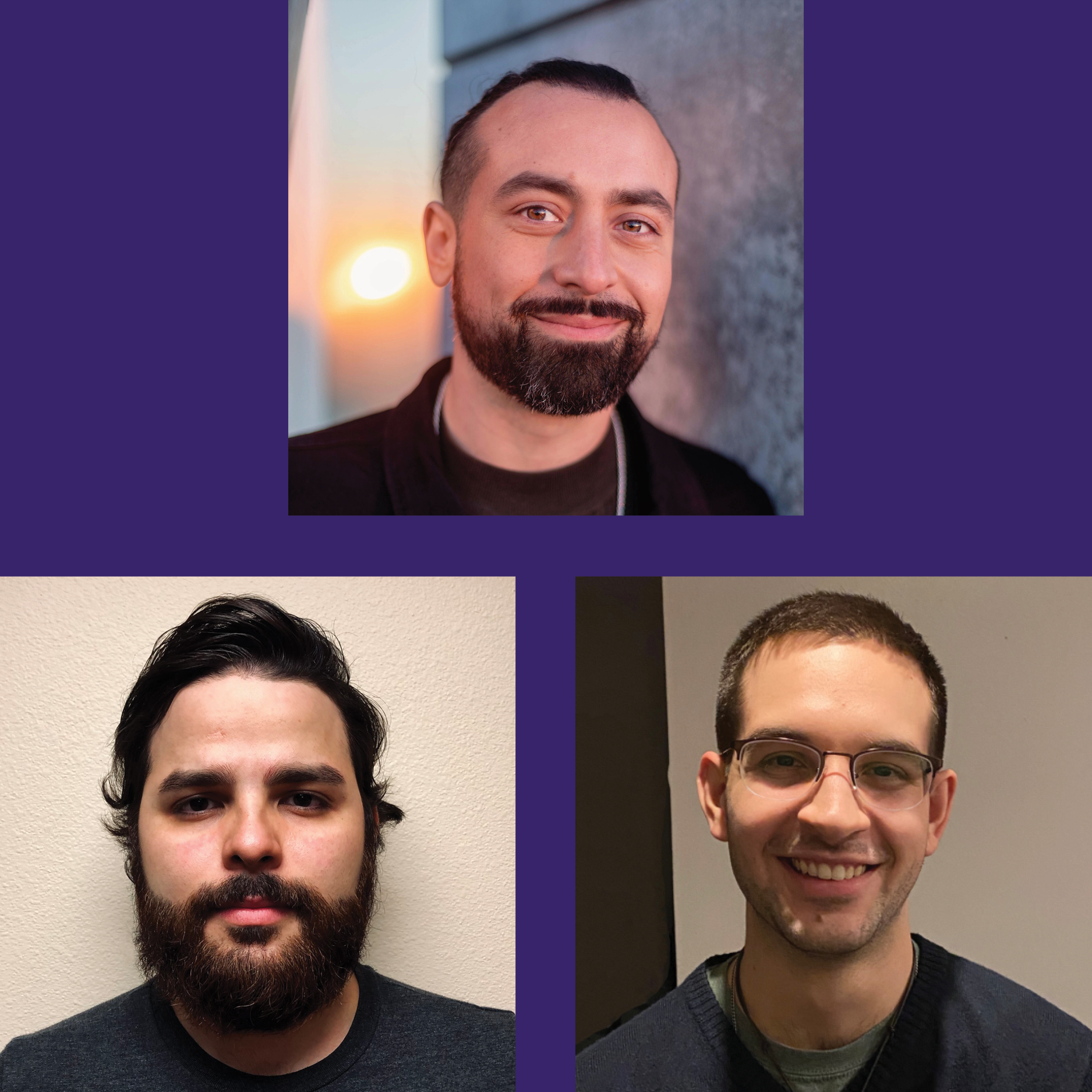 CEI announces 2022 Clean Energy Student Achievement Awardees
Shua Sanchez receives Scientific Achievement Award for novel x-ray technique for study of quantum and energy materials; Miguel González Montijo, Ricardo Rivera-Maldonado share Outreach & Service Award for outstanding contributions to CEI K-12 education programs
Miguel González Montijo, Ricardo Rivera-Maldonado, and Dr. Shua Sanchez received the Clean Energy Institute's 2022 Clean Energy Student Achievement Awards at the institute's annual end-of-year seminar on May 26.
The Clean Energy Scientific Achievement Award recognizes UW graduate students who have demonstrated extraordinary productivity in clean energy research and scholarship, and have contributed meaningfully to the scientific community. Dr. Shua Sanchez, who graduated with his PhD in summer 2021 as a member of physics professor Jiun-Haw Chu's Quantum Materials Lab, won the award for independently developing a new method to analyze advanced materials.
Sanchez developed a novel experimental technique known as elasto X-ray diffraction during his PhD studies, which included a CEI Graduate Fellowship during the 2016-17 academic year. By applying strain to a sample while performing synchrotron X-ray measurements, Sanchez is able to observe the impact of physical deformation on a material's crystal structure and determine any resulting changes in electronic and magnetic properties, which can help reveal the origin of useful quantum phenomena such as superconductivity. This technique is a first in the United States and has led to several impactful publications, including a recent Nature Materials paper with Sanchez as the first author. Sanchez is now a National Science Foundation MPS-Ascend Postdoctoral Fellow at the Massachusetts Institute of Technology.
As a PhD student, Sanchez was committed to supporting other students from diverse backgrounds. He served as a mentor to five undergraduate students, all of whom are women or underrepresented minorities, each completing their bachelor's degrees. Four of his mentees have gone on to pursue a graduate degree in STEM. He also took on a leadership role in the graduate student union UAW 4121 during contract negotiations in 2018, helping win anti-harassment protections, better access to mental healthcare services, and additional protections for international students. Sanchez received the 5 Sigma Physicist Award from the American Physical Society for outstanding advocacy work to support low-income graduate students. Before leaving UW, he served on CEI's first DEI committee in 2021, making major contributions towards the establishment of the Outstanding Undergraduate Research Awards that will fund an additional summer of research for Clean Energy Bridge to Research students.
"It's an honor to be recognized with CEI's Scientific Achievement Award," Sanchez said. "I'm grateful to Professor Chu and my peers for their support, and I also want to recognize the impact of my CEI Graduate Fellowship. Not only did the Fellowship provide me with a platform to build my research, but it bolstered my CV and my confidence in applying for other funding opportunities, eventually leading me to where I am now at MIT. By investing in young scientists with the new OUR Awards, CEI is providing similarly critical support to the next generation of clean energy students."
Read more about how Shua finds a balance between science and service >
The Clean Energy Outreach & Service Award recognizes UW graduate students who have demonstrated dedication and creativity when communicating STEM to a variety of audiences. Miguel González Montijo, a PhD candidate in civil & environmental engineering, and Ricardo Rivera-Maldonado, a PhD candidate in chemistry, both 2021-22 CEI Graduate Fellows, received the award for outstanding contributions to CEI's K-12 program. Along with their work in K-12 classrooms, González Montijo and Rivera-Maldonado developed CEI's first Spanish-language learning resource, a bilingual climate science fact sheet which aims to empower K-12 students to discuss climate change and clean energy with their families and communities.
Advised by CEE professor Richard Wiebe, González Montijo studies the physical properties of new materials used in turbine blades for marine energy. During the 2020-21 academic year, González Montijo participated in the Torrance Advanced Experience Program (AXP) in Science Policy Analysis, where clean energy graduate students work with the CEI Policy Analyst-in-Residence and the Washington State Academy of Sciences to produce informational briefs on clean energy topics for state lawmakers. González Montijo currently serves as a Trainee Advisory Representative (TAR) on CEI's Trainee & Faculty Advisory Board (TFAB).
"As CEI Graduate Fellows, we are fortunate to have the opportunity to serve the public in pursuit of a cleaner, brighter future," González Montijo remarked. "We don't stop being part of CEI after our fellowships end — in fact, each of us must continue to uphold these values throughout our careers. With the tools and platforms we have received, it's our job to become leaders, to have the difficult conversations with people in our lives about climate and energy."
Rivera-Maldonado, a member of chemistry professor Brandi Cossairt's research group, is developing nanoparticle electrocatalysts that can reduce the climate impacts of the chemical industry, when paired with renewable energy generation and earth-abundant reagent materials. Rivera-Maldonado's electrocatalyst nanoparticles can be utilized to split water into hydrogen and oxygen gases, along with other industrially-relevant reactions that require the chemical removal of hydrogen atoms. Rivera-Maldonado has accepted a CEI Education & Training Fellowship for the 2022-23 academic year, during which he will plan and lead outreach visits to Washington state K-12 schools and science fairs and assist in the development of K-12 clean energy lesson plans and resources along Next Generation Science Standards.
"During CEI outreach visits, we saw firsthand how young students are eager to learn about climate change and clean energy," said Rivera-Maldonado. "We put ourselves in their shoes when thinking of ideas for our new resource: what tools could a K-12 student use to make a difference on climate change? With our multilingual fact sheet, we hope to empower young people to communicate with their communities."