About
CEI created the Washington Clean Energy Testbeds to accelerate the development, scale-up, and adoption of new technologies in solar harvesting, energy storage, and systems integration. This open-access facility in Seattle, founded on the principle that users retain all intellectual property, offers customized training and use of instruments for fabricating prototypes, testing devices and modules, and integrating systems. The Testbeds also houses meeting and office space where users from academia and business work and collaborate. Through Entrepreneur in Residence and Investor in Residence programs, and community-sponsored events, the Testbeds are an active gathering space for cleantech innovators and investors.
Scale-up & Characterization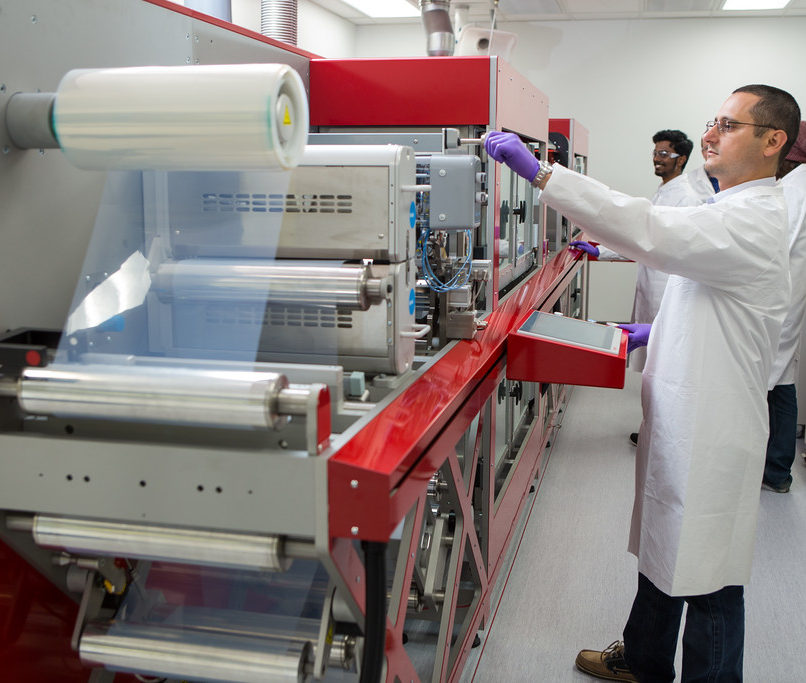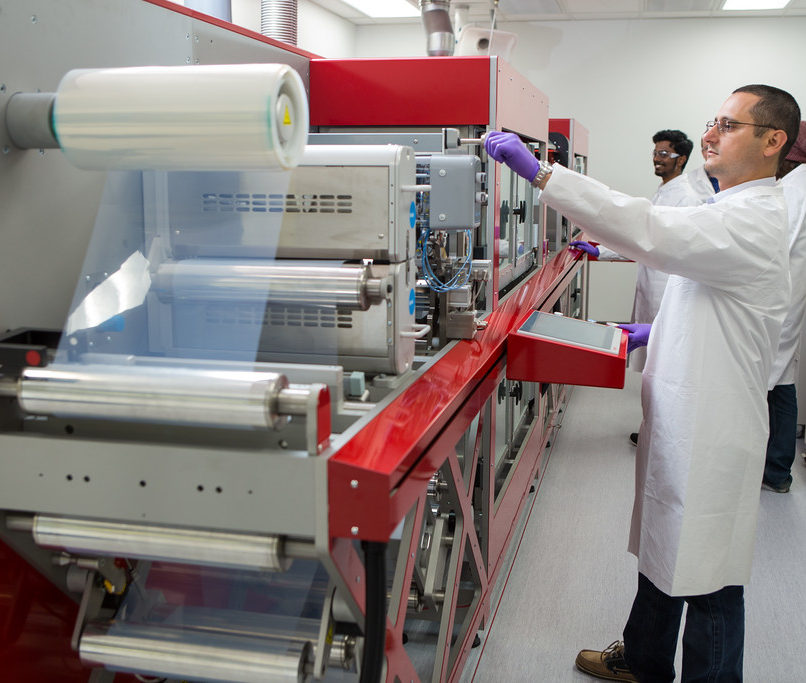 The Scale-up & Characterization lab at the Testbeds offers a platform for prototyping authentic-scale solar and storage devices as well as testing manufacturing processes. The lab includes a 30-ft-long multistage roll-to-roll printer for solar cells, batteries, sensors, optical films, and thin-film devices and is the only one of its kind in the United States.
The Scale-up & Characterization lab also includes a controlled humidity and temperature room to enable specialized fabrication under precise atmospheric conditions. The collection of characterization instruments in the lab form a unique roster of capabilities tailored specifically for supporting scaled energy devices and modules. They allow for rigorous testing of new devices using solar simulators, environmental test chambers, battery cyclers, electron microscopes, X-ray spectrometers and other instruments.
Systems Integration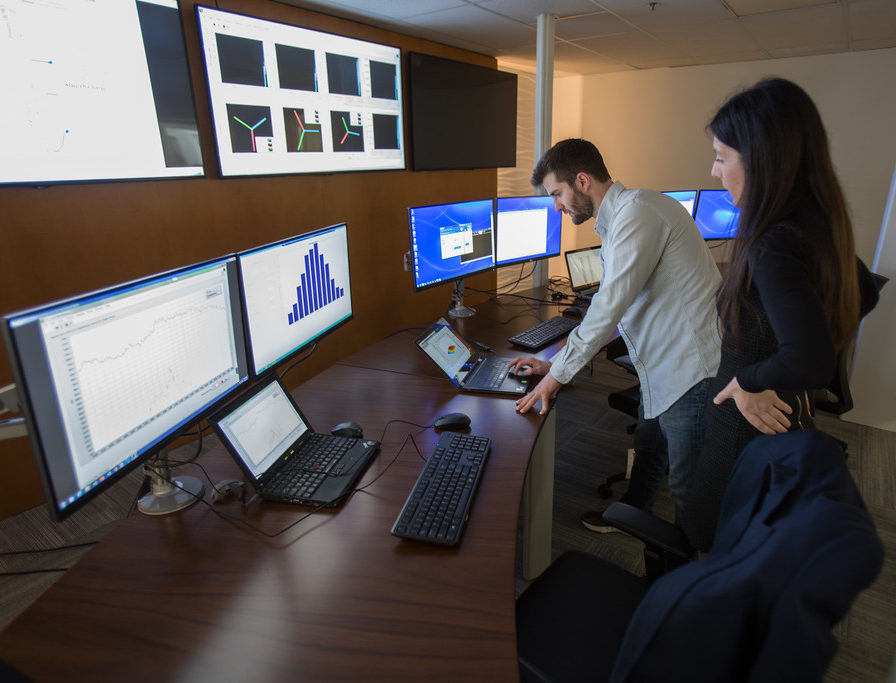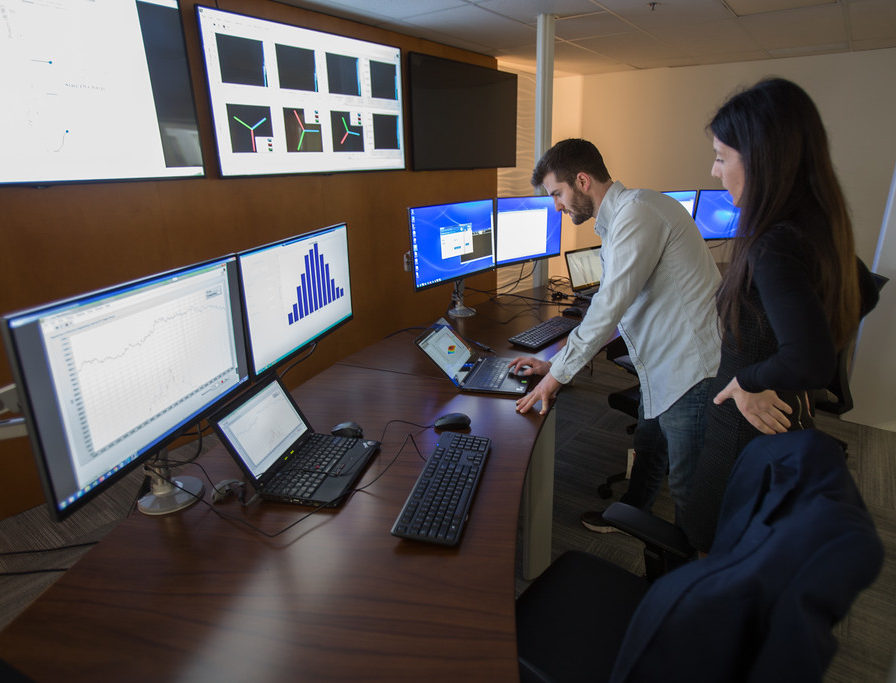 The Systems Integration lab at the Testbeds provides an evaluation platform for testing the performance of energy devices and algorithms when integrated into real and simulated system environments. For example, a real-time digital simulator (RTDS) allows for modeling commercial and grid-scale system performance under normal and extreme conditions. System integration experiments using the RTDS can involve new software algorithms that control or optimize power infrastructure. The lab also includes flexible power hardware and battery storage devices up to 40 kW in scale, allowing authentic testing at the scale of an electric vehicle or commercial building.
Research Training Testbed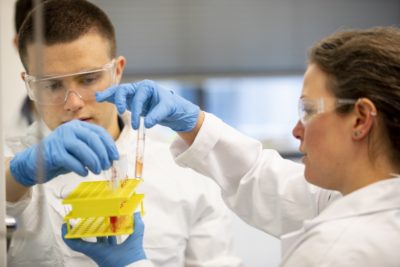 As part of the Washington Clean Energy Testbeds system, the Research Training Testbed facility provides UW students access to research-quality tools and training in clean energy concepts that cut across academic disciplines. CEI member faculty host laboratory courses in the space, and Testbeds users can access the additional instrumentation when not in use for teaching purposes. The RTT is located in the Nanoengineering and Sciences (NanoES) building at 3946 W Stevens Way NE on the UW campus.
Users
Testbeds users include climate tech researchers and entrepreneurs. For more information on becoming a user, contact Testbeds Managing Director Mike Pomfret at wcet@uw.edu.
Resources for Climate Tech Innovators
Cleantech Hardware Innovation Prototyping
The Washington Clean Energy Testbeds have recently partnered with the CleanTech Alliance and VertueLab to establish the Northwest Cleantech Innovation Network through the U.S. Department of Energy's Energy Program for Innovation Clusters (EPIC). As part of this program, the Testbeds has launched the Cleantech Hardware Innovation Prototyping (CHIP) program to increase access to advanced capabilities for scaled prototyping, testing, and demonstration.
Learn more about the program and apply on the Testbeds website.
Entrepreneur in Residence (EIR)
EIRs host regular public events and office hours to council entrepreneurs, researchers, and students in the region. The current EIR is Tom Madden, Principal at Madden Echem Concepts, a 6-employee battery technology developer based in Hartford CT. Tom previously served in CTO roles at BenAn Energy and Aquion Energy, working on aqueous saltwater battery development at both companies.
Investor-in-Residence (IIR)
Offered in partnership with E8, a climate tech angel investment group. IIRs advise on funding proposals, financial strategy, fundraising, and strategic partnerships. The current IIR is Jeff Canin, a board member at E8 and an expert in venture capital.
Recent News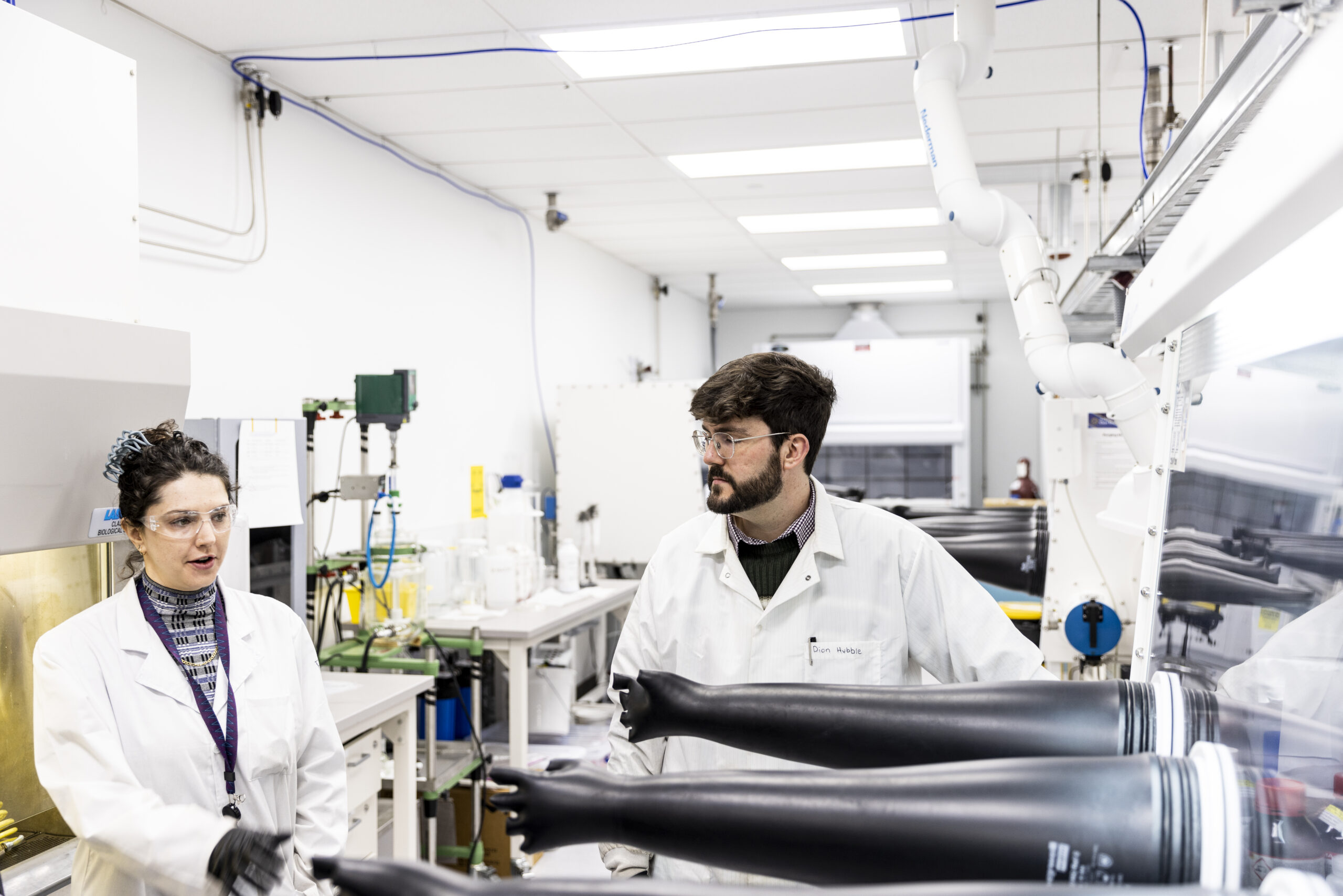 [vc_row][vc_column][vc_column_text]By Jackson Holtz | UW News May 25, 2023[/vc_column_text][vc_empty_space][vc_column_text]A clean energy...