Program Details
Clean Energy Bridge to Research (CEBR) is a summer program run by the University of Washington (UW) Clean Energy Institute (CEI) and Undergraduate Research Program, and funded by the National Science Foundation (historically, NSF CHE-1950904). The CEBR Research Experience for Undergraduates (REU) program supports a select group of undergraduates, community college students, and tribal college students to participate in authentic research in solar, energy storage, and grid technologies under the mentorship of UW's world-class faculty and grad students. Participants embark on a nine-week immersive research project in a single UW clean energy research lab, and produce an abstract and poster summarizing their work. All students that are accepted into the program are supported financially with competitive stipends. Housing, food allowance, and up to $500 in travel allowances are provided.
Participating students gain research experience in nationally recognized labs, prepare for graduate school, network with peers and research professionals, receive mentoring from top faculty, create potentially publishable work, receive a competitive stipend and restitution for travel and housing, and may be eligible to receive academic credit and attend professional conferences.
Research projects within CEBR labs cover a broad range of disciplines, including chemistry, physics, materials science & engineering, and electrical & computer engineering. Students can choose to work on the theory that drives the development of new molecules for trapping solar energy, new electrode materials and chemistry for batteries, or models for grid management of renewable energy. Other labs work on integrating these new materials into devices at both the nano- and macro-scale.
By the end of the summer, students are familiar with both the technical skills of performing research within the lab, and the social and cultural skills necessary to succeed in industry and academia. Students are generally exposed to a variety of research activities which may include literature search, experimental design, bench work and lab notebook management, mathematical modeling, instrumental characterization, computer/software control and analysis, lab safety, as well as communication, organizational and interpersonal skills.
Applications for the 2023 CEBR REU are now closed.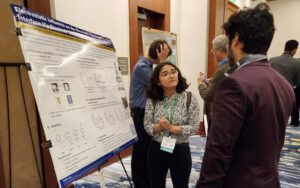 Vanessa Zambrano kickstarted her clean energy career through the CEBR program in summer 2019. Read the full story about the REU experience here!
Program Dates
Application Open: December 15
Application Deadline: February 15
Program: June 17 – August 16, 2024
Eligibility
This program is open to U.S. citizens or permanent residents who are 18 years of age or older. This program prioritizes non-UW students who have completed one or two years of college, community college, or tribal college.
Stipend
The CEBR REU provides a stipend of $6,300, on-campus housing, $1000 meal card, and a $500 travel allowance.
Activities
Students accepted into the full program are expected to work in their designated laboratory for 9 weeks, 40 hours per week to complete an academically appropriate research project designed in conjunction with their advisor. By the end of the nine-week session, students are expected to complete an abstract or summary of their work, a poster and a presentation. Other assignments may be required.
The weekly seminar series hosted by the UW Office of Undergraduate Research will introduce students to the rationale behind research, general research procedures (as needed for each cohort), how to set realistic goals and expectations, and how to handle frustration and setbacks. Students are encouraged to meet frequently with their faculty and graduate/postdoctoral advisors, particularly in the early stages of the program, to precisely define their projects and review lab-specific safety protocols. Students' project plans will be approved by their faculty advisors by the end of week two.
Students in the CEBR cohort will also gather weekly for a journal reading club, lab tours or presentations. Final reports (abstracts) will be due in the 9th or 10th week, at which time students are required to participate in a final poster session and present their work. These reports will be reviewed by the faculty advisors and posted online.
In addition to the work that REU students do in the lab, they also participate in seminars, social activities, and field trips that provide them with increased networking and learning opportunities, as well as other enrichment and outreach opportunities sponsored by the Clean Energy Institute. Some students may be eligible to receive academic credit and attend professional conferences to share their work and learn about that of others.
Additional Resources
Past Student Projects
CEBR builds on the success of the Hooked on Photonics (HOP) program, which ran from 2004 to 2014 with NSF support.