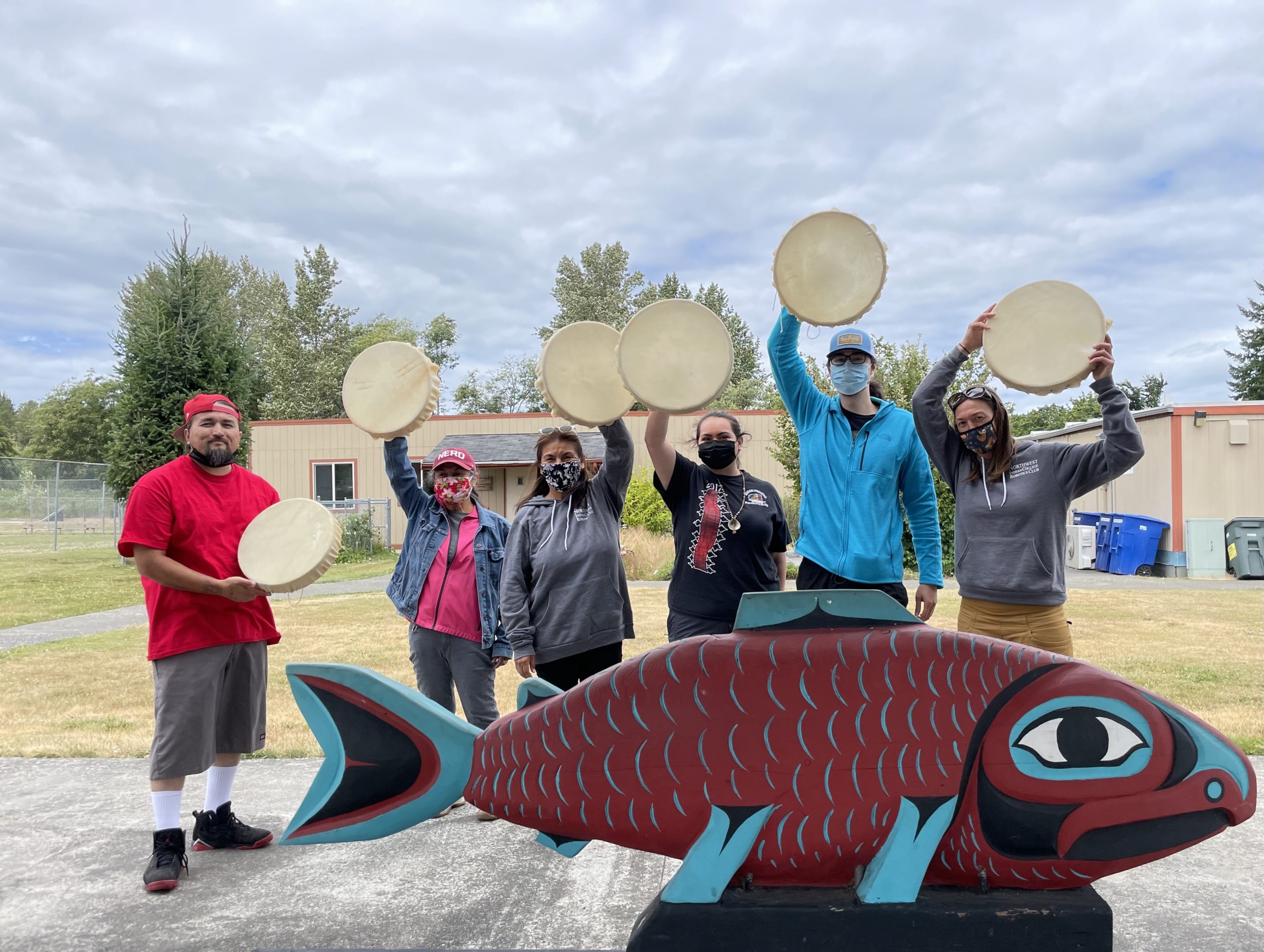 Microgrids for education and energy sovereignty
After founding Northwest Indian College's first engineering program, Stephanie Bostwick aims to bring clean energy to her classroom — and to the Lummi Nation.
Growing up in Spokane, WA with Blackfeet heritage, Stephanie Bostwick dreamed of becoming an astronaut. But after her first year of college, she realized she needed a new plan for financially supporting herself, so she decided to enlist in the Naval Nuclear Program, knowing upon completion her education would be fully funded. After finishing her service, she attended Edmonds College to complete an Engineering Transfer program, then earned both a Bachelor's and Master's degree in Aeronautical & Astronautical Engineering (B.S. '05, M.S. '07) from the University of Washington. Bostwick then spent seven years working in the aerospace industry before deciding to become an educator. She taught at Highline College, Edmonds College, Lake Washington Institute of Technology, and Whatcom College, before founding the first engineering program at the Northwest Indian College (NWIC), located on Lummi Nation land near Bellingham, WA. In 2020, she participated in the UW Clean Energy Institute (CEI) summer Research Experience for Teachers program (RET), held virtually due to COVID-19, where she worked alongside UW researchers to integrate renewable energy and energy sovereignty into NWIC's engineering program. Ultimately, she hopes for her students to bring energy knowledge back to their communities — there are over 90 tribes represented at NWIC — so that they can push for clean energy solutions at home.
"I became passionate about clean energy and the environment because of the principles with which my parents raised me," Bostwick said. "I've always had an environmental mindset, and I try to live minimally, taking only as much as I need from the world around me. After working for several years working in aerospace, I remember thinking, 'why didn't I go into renewable energy?', but there's a lot of interchange between disciplines in the engineering community — that quickly turned into 'I can still go into renewable energy!'"
Bostwick founded NWIC's engineering program in 2019, and after a conference she attended with NASA, began collaborating with researchers from the AEROKATS and ROVERS Education Network (AREN) and faculty at the University of Alaska-Fairbanks. Fairbanks' Alaska Center for Electric Power operates a Power Systems Integration Lab for testing devices on a simulated village power grid — akin to the Systems Integration facility at CEI's Washington Clean Energy Testbeds — which is often utilized by island communities to help integrate renewables into their energy grids. With guidance from faculty in UW's RET program, Fairbanks' microgrid experts, and staff at the National Renewable Energy Laboratory (NREL), Bostwick began shaping NWIC's engineering curriculum towards a renewable energy focus.
"Energy sovereignty is a fundamental right for tribes," Bostwick explained. "Without installing energy infrastructure on Indigenous land and without the technical expertise within our communities to design, build, and maintain this infrastructure, tribes are still forced to rely on U.S. energy production. Our students need to learn more about solar and other renewable technologies, in order to make the most informed decisions about how we generate our own clean energy."
Learning more about clean energy
Without access to NWIC's labs during the COVID-19 pandemic, Bostwick took the time to redevelop her curriculum, starting by partnering with Remote Energy — a Washington-based solar equipment supplier — to procure solar panel test kits for hands-on learning. The interim program was a success, but Bostwick wanted to think bigger: what if student learning could go hand-in-hand with energy development on campus? What would it take to operate an entire reservation on a separate power grid? To find out, she began by visiting Washington State University's microgrid and pursuing grants to install solar panels on NWIC buildings. Then, she applied to CEI's RET program to learn more about power systems and energy education from UW electrical & computer engineering professor Daniel Kirschen.
"It was great to work with Daniel to develop a plan for educating students with microgrids," said Bostwick. "I had taken some professional engineering courses while doing my Masters' in control systems, but I still had to learn how to think like an electrical engineer. At the same time, I had to think through the educational side. We started with introductory course materials that described the concepts of renewable energy, energy versus electricity, and microgrids. As the summer went on, we mapped out what it would look like to perform a microgrid feasibility study for the NWIC campus, and how we could involve students."
Bostwick and her collaborators won a grant from the Bureau of Indian Affairs (BIA) Tribal Climate Resilience Program (TCRP) to perform the NWIC feasibility study, while at the same time Bostwick's partners at the Lummi Indian Business Council (LIBC) won a feasibility grant from BIA's Energy and Mineral Development Program (EMDP). In June 2022, Bostwick's students will present capstone projects to NWIC's partner firm, Säzän Group, Inc., which has also worked with the Quinalt Indian Nation to develop a microgrid to power their reservation. NWIC and LIBC expect to wrap up their studies in September 2022, at which point they aim to apply for DOE grants up to $3 million to build the microgrids.
"This project was huge for my students, and I hope to double down with the campus microgrid," Bostwick said. "Many engineers leave school without much practical experience, and there are few opportunities for Native engineers to stay with their tribes as engineers. Our enrollment has suffered since the pandemic began, and all of my students are online, so this hands-on experience is even more vital."
In July 2021, Crosscut highlighted Stephanie Bostwick's work with Remote Energy as part of their "Deeply Rooted" series on environmental justice in Washington State. Full story >
Energy sovereignty for the Lummi Nation and beyond
Energy self-sufficiency has been a goal of the Lummi Nation since 1993, when the Lummi Indian Business Council first passed a resolution proposing a tribally-owned and operated gas-fired power facility on their reservation. The gas generation facility was rejected due to economic feasibility concerns; since then, progress has been focused on improving energy efficiency and exploring renewable power, including wind feasibility studies performed by NREL in 2002 and another by the tribe and its partners in 2010-12.
"Solar is often the most cost-effective source of renewable energy up front, but it's not always the best fit for every community," Bostwick explained. "The Lummi are a salmon people above all, so major hydropower installations could be damaging to their way of life. There's also some resistance to tidal energy with its potential impacts on shellfish farming, and there are some concerns with wind energy due to siting and decommissioning. Geothermal heat pumps are very interesting as they could supply heating and cooling — most homes in Western Washington weren't equipped to handle last year's June heat wave or December cold snap. During my RET, I was able to connect with UW PhD students and faculty across all of these areas of renewable energy to learn more about these possible solutions."
Prior to NWIC and the Quinault Indian Nation, the Blue Lake Rancheria in northern California developed its own microgrid in response to the Tōhoku earthquake in 2011. The Blue Lake Rancheria microgrid, which Bostwick hopes to visit as part of the NWIC feasibility study, saves the small community over $200K in energy costs and over 200 tons of CO2 emissions every year, and provides resilience in case of natural disasters. More recently, the Spokane Tribe of Indians in eastern Washington was awarded $240K from the Washington State Clean Energy Fund to develop microgrid infrastructure around its existing 650kW of solar panels. This model clearly works for tribes, but Bostwick isn't resting on any laurels. This past summer, she earned a fellowship at NREL to do further research around microgrid and renewable energy planning for tribal communities and urged the program's organizers to offer remote internships to students, to empower participants to work in their own communities. And a new faculty member at NWIC, Anna Waschke, will teach introductory physics courses and help expand the broader curriculum to include native inventions in physics and engineering, which will be boosted by her own participation in CEI's RET program in summer 2022.
Above all, Bostwick is lighting a path for the next generation of Native American scientists and engineers.
"To young Indigenous scientists: find that drive to get the information you need," she urged. "Indigenous Peoples have a certain level of resilience, so leverage that. Connect with other tribes who have already done the things you're trying to do. Even the things that haven't been done can be done, we just need to learn how. Don't be afraid to dream big."