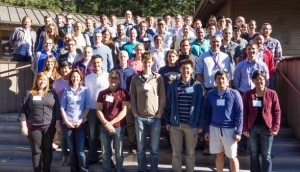 Investing in Future Clean Energy Leaders
The University of Washington Clean Energy Institute announces recipients of 2015 Graduate Fellowship Program
December 16, 2014 — The University of Washington Clean Energy Institute (CEI) recently announced the recipients of its 2015 Graduate Fellowships in Clean Energy Research. The UW students awarded the CEI Graduate Fellowships represent a diverse group of UW researchers across disciplines including chemistry, chemical engineering, electrical engineering, mechanical engineering, materials science and engineering, and physics. The program's goal is to encourage excellence in research and education by supporting highly talented and motivated graduate students to study clean energy-related topics.
The CEI Graduate Fellowships is a competitive program and represents an investment of more than $400,000 in graduate student research. Those selected receive six months of financial support ($16,000 per student) in order to pursue a research project related to the development of new materials for solar energy, energy storage, or grid integration of renewable energy. The 2015 class of CEI graduate fellows begin their tenure in January 2015 and the fellowships could be extended for students who are making exceptional progress in his or her research.
"We are training this generation of students to be the leaders who create the technologies, file the patents, and found companies that make next generation solar, batteries and smart grid technologies a reality," according to David Ginger, UW professor of chemistry and associate director for education of the Clean Energy Institute. "The graduate fellows program plants the seeds of discovery. In future years these student leaders will transform our present energy system into a clean energy economy that will benefit our region and the world."
"Our complex energy problems were not caused by one thing. Similarly, there isn't a single answer. We need many answers, and many researchers from diverse fields and backgrounds to find them," said Dave Eaton, vice provost and dean of the UW Graduate School. "The Clean Energy Institute is the perfect example of how investing in interdisciplinary research can profoundly impact our state's environment and economy, while supporting students as they pursue degrees and prepare for careers in STEM."
The incoming class of 27 graduate fellows is the second cohort of CEI graduate fellows. While the program emphasizes the pursuit of individual projects or ideas, the students will be joining 18 established research groups on campus that are working to accelerate the development of clean energy materials and systems adoption. The program is only a year old; however graduate fellows from the first cohort made significant contributions in the inaugural year. Highlights include:
The development of new inks used to print highly efficient solar materials that can be used as window coatings and films to replace traditional rooftop solar panels.
Creation of a world-class x-ray device that will allow materials researchers at the UW, other research institutions, and private industry to study and improve the electronic structure of working batteries and battery materials.
A pricing model to help determine the value of solar and determine a win-win solution where consumers and utilities share the cost of the integrating renewable energy into the grid.
The accomplishments of the first cohort have been recognized outside the UW with fellowships and awards, and their research has led to more than $10 million in additional external funding and investment to UW and Clean Energy Institute programs.
A complete list of students offered the CEI graduate fellowship is available at the CEI website, along with profiles of the research projects from the inaugural class of 2013-2014 CEI Graduate Fellows.
About the UW Clean Energy Institute
The Clean Energy Institute at the University of Washington is advancing the next generation of solar energy and electrical energy storage materials, devices and integrated systems. We are accomplishing this vision through scientific and engineering research combined with partnerships that leverage eight decades of unique clean energy leadership, knowledge, and infrastructure in our state and region. The CEI is organized among research areas in Advanced Materials for Energy and Energy Systems and Integration which spans materials research, energy storage and includes electrical grid integration. The institute was established by the State of Washington in 2013.