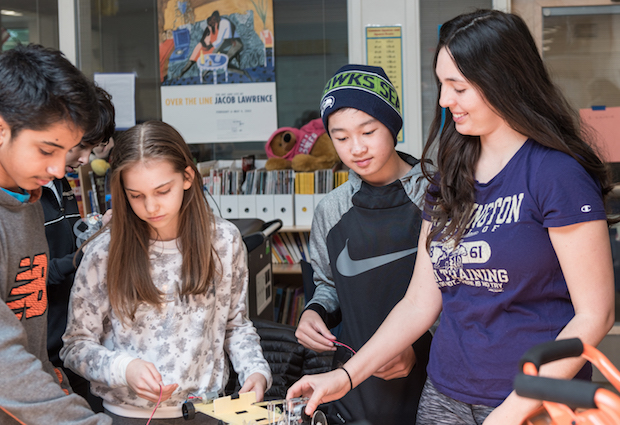 Inspiring future engineers
Gabriella Tosado building solar cars with middle school students. Photo: Tara Brown / University of Washington
Read the original story here.
---
Chelsea Yates
January 9, 2018
"I'm from Miami, Florida, where climate change isn't just real; it's personal," says chemical engineering graduate student Gabriella Tosado. "My home city is seriously threatened by rising sea levels, and not only do I want to do my part to develop solutions to help fight climate change, I want to encourage young people — our next generation of engineers and scientists — to do the same."
The first scientist in her family, Tosado triple-majored in chemistry, environmental science and policy, and religious studies at the University of Miami before switching gears to pursue a dual Ph.D. in chemical engineering and nanotechnology and molecular engineering. At the UW, she has melded her interests in sustainable engineering and community involvement through the UW Clean Energy Institute (CEI), where she's been coordinating K-12 outreach programs since 2016.
We recently caught up with Tosado, who was named to the Husky 100 last spring, to learn more about her research and passion for inspiring underrepresented students — particularly young women and students of color — to pursue STEM disciplines and careers.
Why did you decide to study chemical engineering at the UW?
Although I love chemistry, I wanted to pursue a solutions-focused, application-oriented course of study for my graduate work, so I started looking at engineering programs.
When I visited Seattle to check out UW's chemical engineering program, I discovered CEI, which had just opened on campus, and is working to advance clean energy technologies through solar energy, battery and grid research. When I realized I could get in on the ground floor of CEI's innovative research, I decided that UW was the place for me.
Tell us about your research interests.
I'm working in ChemE professor Qiuming Yu's lab to develop and stabilize perovskite solar cells. Perovskite is an exciting material that's pretty new to the solar world. Its unique crystal makeup gives it a lot of interesting properties, and it can be printed on flexible materials, which is really cool. There's hope that it may soon become a cheap, efficient, and high performing alternative to conventional — and expensive — silicon solar cells. But in its current state, it's too unstable. We want to come up with a way to stabilize it so that it can be commercialized, ultimately making solar energy more accessible and affordable.
You are CEI's first education fellow and outreach coordinator. What does that involve?
I develop outreach activities for CEI through the CEI Ambassador Program. This includes everything from creating curriculum materials and organizing tours to traveling across Washington state to teach K-12 students about clean energy and encourage them to think about going to college to study STEM. I'm proud to say that we've reached more than 40,000 students across the state to date.
Through CEI, I also started working with Pacific Science Center, and this year, I'm serving as a Pacific Science Center Communications Fellow. A few times each quarter, you can find me leading workshops and demonstrations at the Center as part of one of their many public programs, such as Meet a Scientist Day and Paws on Science Research Weekend.
You are a founding member of Women in Chemical Engineering (WChE). Why did this group get started?
ChemE assistant professor Elizabeth Nance started this group in 2016 to empower, educate and advocate for women in chemical engineering at all levels — undergraduates, graduate students, faculty and alums. In a male-dominated field like chemical engineering, I think it's easy for women to feel invisible. With WChE we wanted to create a welcoming and open space for dialogue, mentorship and collaboration. We host professional development events, industry panels, and as the outreach coordinator, I create community networking and educational outreach opportunities. And we're always excited to welcome new members! All students, regardless of gender, are encouraged to join and help us advocate for women in our discipline.
This fall, you organized "Introduce a Girl to Nano," a nanotechnology fair to encourage young girls and women toward STEM fields. Tell us about it.
I organized "Introduce a Girl to Nano" on behalf of CEI and WChE and with help from some fantastic fellow UW students. In celebration of National Nanotechnology Day, our fair featured a variety of hands-on experiments for girls to try. They could react gold nanoparticles, race solar cars, create graphene circuits and rainbow thin film, and so much more! We offered STEM patches to Girl Scouts who participated, which was great fun.
This event was actually a follow-up to "Introduce a Girl to Photonics," a fair I organized for CEI in 2016. That year 50 girls participated; this fall's event brought in 277. I'm looking forward to seeing that number grow even more next year, though we haven't decided on the theme yet. We're considering robotics, coding and polymers, as well as a few others…
A lot of your outreach focuses on introducing underrepresented communities to science and engineering. In your opinion, why is it important to bring more diversity to STEM fields?
I think it's important for girls and students of color to see women and people of color pursuing STEM disciplines in college. When I was a kid, no one in my immediate family had a background in science, and I didn't really have any women mentors in science to look up to. So I carved out my own path. I often think about how meaningful it would have been to have someone to look to and say, "She did this; I can do this, too." I'm now in a position where I can be that person for someone else, and that's really motivating.
Speaking more broadly, engineers and scientists need to come up with solutions to today's challenges, but to do so effectively, we need to be more creative and diverse in our problem-solving and ways of thinking. We need dynamic solutions in STEM, and the only way to get them is to diversify the field. The more difference, the more opportunity to cultivate and implement new ideas and approaches.
Why do you make time for outreach?
Outreach keeps me sane! In graduate school, there are many failures. You design, you test, and more often than not, you fail. So you start again. There's a lot of stress.
But in outreach there's so much wonder and excitement; it's infectious and promising! The smiles on kids' faces when they test out solar spinners they've just made, or when they realize they can make a battery from scratch — those moments are awesome. And I can't tell you how much it brightens my day to see a bunch of little girls line up to race solar cars. That's the best!