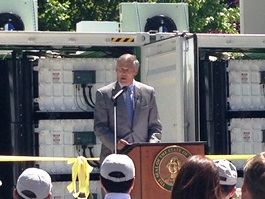 Washington Takes Big Step Toward Renewable Energy Storage and Grid Integration
July 9, 2014 — Progress in the state's energy storage and smart grid projects received a big boost this week. On Tuesday, Governor Jay Inslee announced a major state initiative to leverage state matching funds for three projects that will integrate power generated from intermittent renewable sources, such as wind and solar, in the state's electrical grid. The project involves three of the state's major utilities and research institutions, including the Pacific Northwest National Laboratories and the University of Washington Clean Energy Institute.
Professor Daniel Kirschen, a CEI faculty member and professor of electrical engineering, will participate in the utility demonstration projects working alongside the Pacific Northwest National Laboratory (PNNL). Using data collected by PNNL, Kirschen will be assessing the economic value that these batteries create in the electrical grid as a function of various technical parameters such as the battery power rating, energy rating, location, and how the battery and storage is being used in the individual demonstration projects. Using this data, the team can then draw conclusions about the long term value for larger scale deployment of the batteries and energy storage applications in Washington state and beyond.
UPDATE: In December 2014 and January 2015 large battery systems were placed in test sites in Pullman, Washington and in Everett, Washington with more to follow. Read more here:
How to Store Solar Energy for a Rainy Day? A Really Big Battery, Seattle Times, January 16, 2015
Energy storage project will use massive batteries to store renewable energy, KLEW TV, December 30, 2014
Battery storage units placed this morning in Pullman as part of our Energy Storage Project http://t.co/3tPKmWtNh5 pic.twitter.com/mIWfObE0e1

— Avista Utilities (@AvistaUtilities) December 31, 2014
Read more from media coverage from the original press conference:
State pursues new smart grid projects to capture, store more solar and wind power, Press release, Office of Washington Governor Jay Inslee, July 8, 2014
Federal Research Spurs Washington State to Store Energy, PNNL Press release, July 8, 2014
Why Washington State's $14.3M Storage Program Is So Different From Others, Greentech Media, July 8, 2014
$14.3M state grant for 'smart grid' technology could mean big business for Mukilteo startup, Puget Sound Business Journal, July 8, 2014
State Grants Position Washington as Energy Storage Player, Xconomy, July 9, 2014
UniEnergy Technologies Goes from Molecules to Megawatts, Xconomy, July 8, 2014
Mukilteo company develops 'smart' battery to store alternative energy, KING TV, July 8, 2014