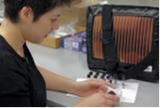 UW LEADs Nation in Female Engineering Faculty
Read a Q&A with Christine Luscombe, a member of the Clean Energy Institute Faculty Advisory Board and Associate Professor of Materials Science and Engineering. She discusses the challenges and rewards of being a woman scientist and engineer at the University of Washington.
Building off its track record of advancing the careers of female faculty, the University of Washington is creating an online toolkit to assist other colleges and universities in advancing STEM faculty diversity at their home institutions. Read more in this article from UW News and Information.