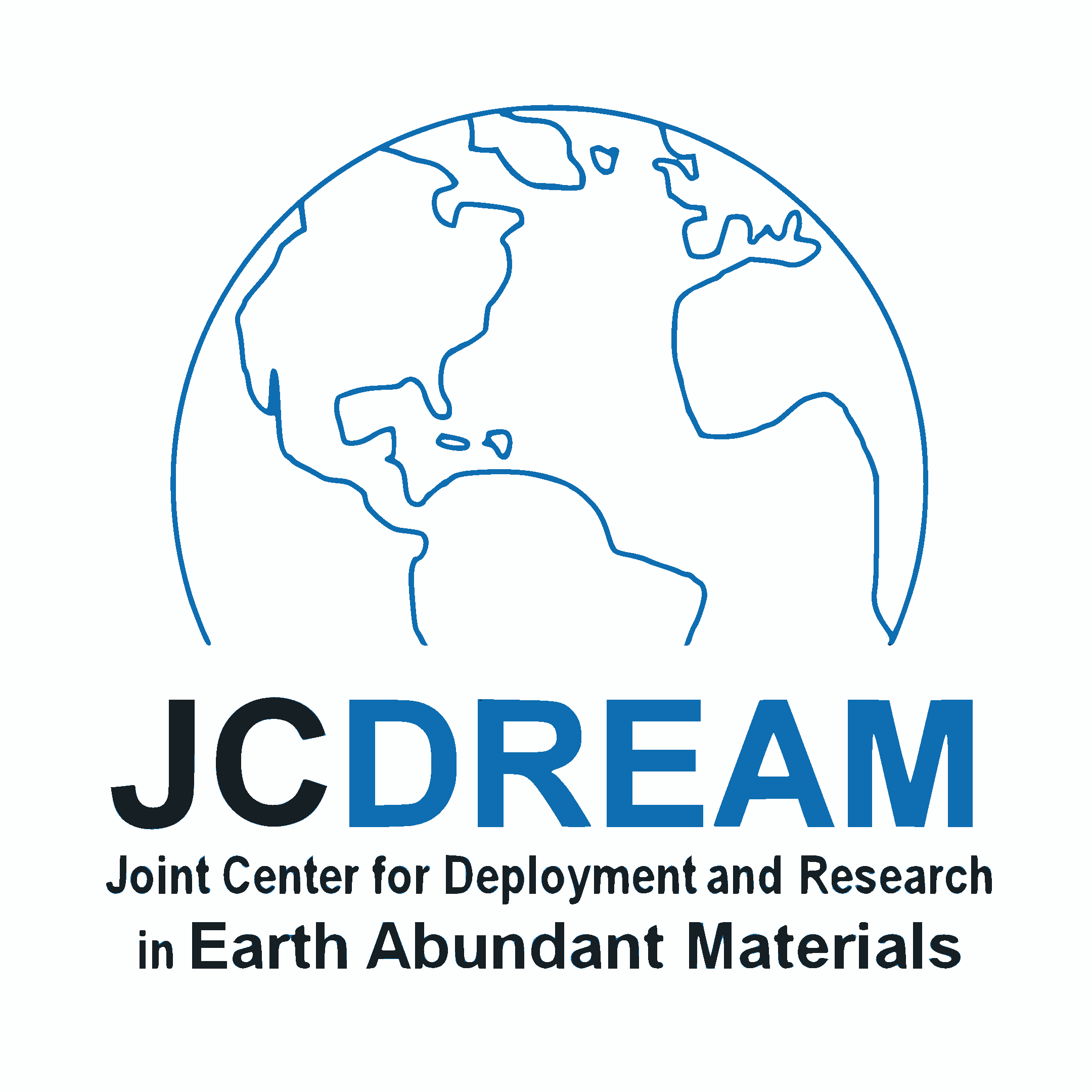 Revolutionary printer for sustainable electronics comes to Washington Clean Energy Testbeds
Joint Center for Deployment and Research in Earth Abundant Materials (JCDREAM) awarded $631K to Testbeds to install world's first roll-to-roll inkjet printer for electronics with sub-micron features
UW professor J. Devin MacKenzie will use printer to develop cheap, sustainable alternative to rare-earth materials used in solar panels, displays, and touchscreens
November 6, 2018
The Joint Center for Deployment and Research in Earth Abundant Materials (JCDREAM), a Washington state research collaborative, has awarded $631K to University of Washington (UW) materials science & engineering and mechanical engineering associate professor J. Devin MacKenzie and the Washington Clean Energy Testbeds. MacKenzie will use the funds, which UW will supplement with $187K, to purchase and install an ultra-high-resolution electronics printer developed at SIJ Technology, Inc. and Japan's National Institute of Advanced Industrial Science and Technology. When integrated with the existing roll-to-roll printer at the Testbeds, it will be the first system capable of high-throughput printing at sub-micron feature sizes. The printer will be available to academic and industry Testbeds users for research and development, prototyping, and commercial manufacturing. Advances in printed electronics will allow next-generation electronic devices to be sustainably manufactured with earth-abundant materials.
"We can't wait to bring such a revolutionary device to the Testbeds thanks to JCDREAM," said MacKenzie, the Washington Research Foundation Professor of clean energy, materials science & engineering, and mechanical engineering at UW. "Our users will be able to print electronics using sustainable materials with finer control than ever before, and it will directly enable UW and industrial researchers to develop a sustainable alternative for a crucial element of flexible thin-film solar cells, displays and touch screens. This printer, the first of its kind in the world, can also be used to make improved sensors and higher-power batteries."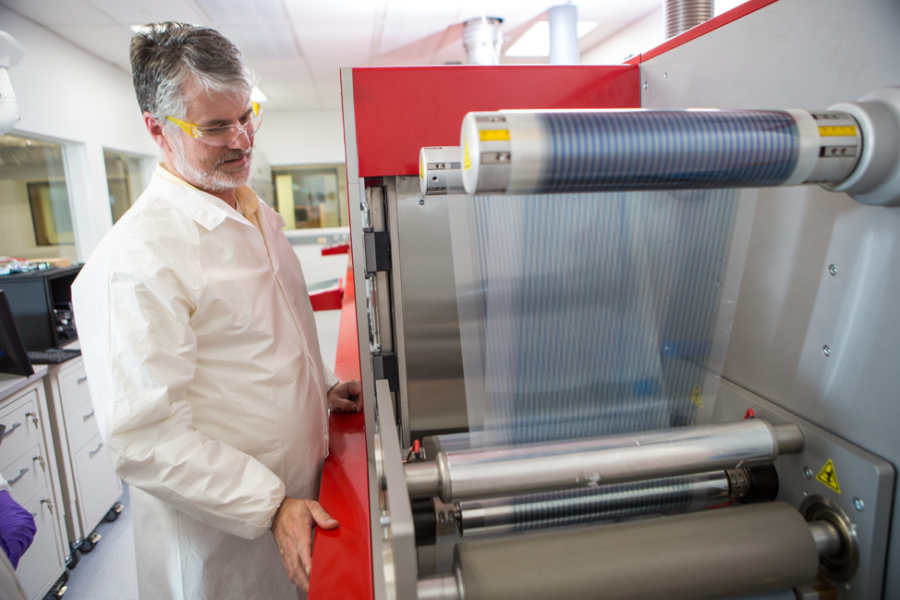 Devices like solar cells, displays, and touchscreens often depend on rare earth and scarce materials that are transparent and electrically conductive, like indium tin oxide (ITO). ITO is typically deposited on photovoltaic materials in a solar panel or the liquid crystal display in a smartphone. But indium is expensive and geologically scarce, while manufacturing techniques like vapor deposition, lithography, and etching can be energy-intensive or materially wasteful. There are also growing concerns about indium's health and environmental impacts.
UW models have shown that electrodes made of earth-abundant materials can be patterned with micron-scale features — smaller than can be seen by the human eye — to make them competitive with ITO electrodes. MacKenzie's research group can now create this alternative using the advanced capabilities of the JCDREAM-funded printer, as conventional inkjet electronics printers are limited to 20-50 micron features. They will develop copper-based transparent electrodes with nanoscale features that will match or exceed the conductivity and transparency of conventional ITO electrodes. The additive printing process will also eliminate the etching process, reducing negative environmental impacts of the runoff as well as the amount of starting raw material.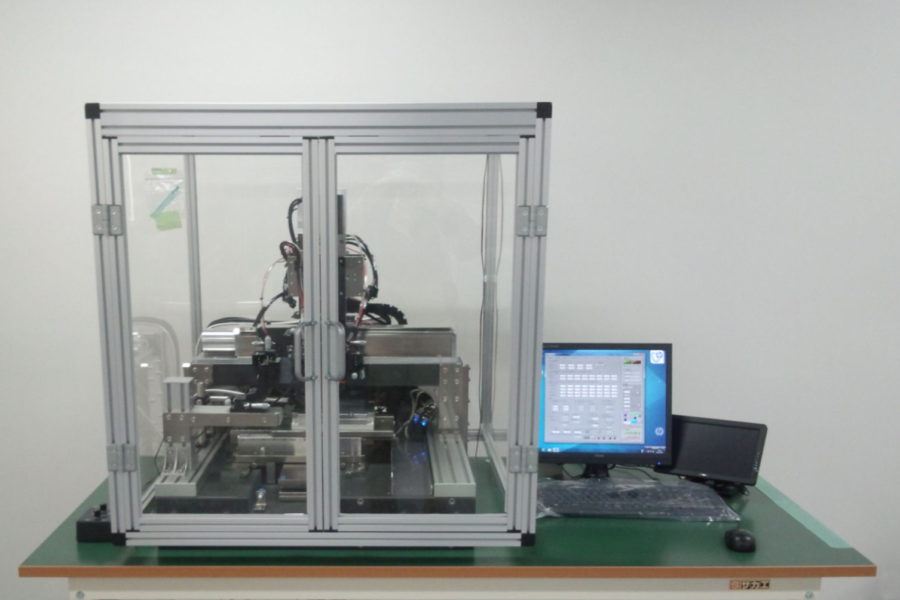 Ultimately, MacKenzie's group aims to create a pathway to sustainable, scalable manufacturing of thin-film solar cells. Currently, indium is a limiting factor for thin-film solar cells due to its cost, toxicity, and long environmental life cycle. The copper-based transparent electrodes could also be used in flat-panel TVs, smartphones, and car windshields. Along with the copper-based alternative to indium electrodes that his group is developing, MacKenzie believes that the revolutionary printing system will enable sustainable solutions for batteries, sensors, fuel cells, and catalysts that rely on lithium, palladium, and cobalt.
"As a cleantech-focused facility that serves academic researchers, startups, and developed companies, the Testbeds are a perfect guidepost for JCDREAM's mission," said JCDREAM's interim executive director David Field. "Our relationship with the Testbeds and other state-supported institutes is crucial to our success. We can't wait to see the sustainably-sourced and sustainably-produced electronics that Testbeds users will create with this printer."
JCDREAM is a research collaborative between Washington State University, UW, and the Pacific Northwest National Laboratory, with additional involvement from academic, government, and industrial institutes in the state that are involved in education, research, or manufacturing. It was established in 2015 to stimulate innovation in the use of earth-abundant materials alongside Washington state's strong clean energy and transportation industries. The upgrade to the Testbeds is just one element of JCDREAM's program of research, development, deployment, and training, with the goal of national leadership on the challenge posed by unsustainable use of resources and rare earth minerals.