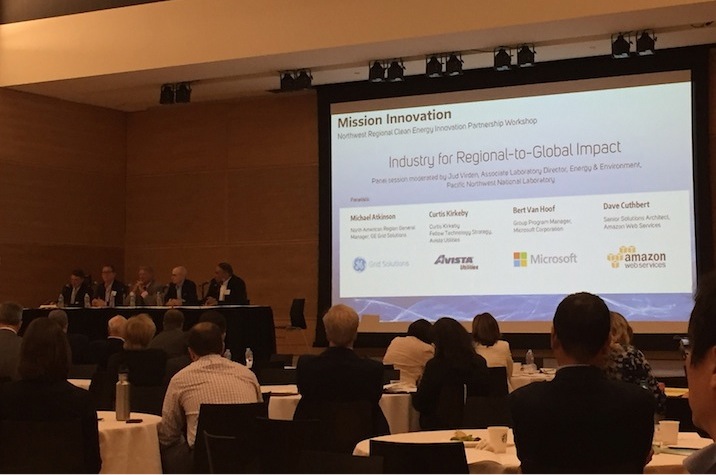 CEI hosts national leaders at regional clean energy workshop
On August 15, 2016, the Clean Energy Institute hosted the Northwest Regional Clean Energy Innovation Partnership (RCEIP) Workshop at the University of Washington.
Clean energy leaders from across the Pacific Northwest gathered with U.S. Secretary of Energy Ernest J. Moniz, Washington Governor Jay Inslee, U.S. Senator Maria Cantwell, and U.S. Representative Derek Kilmer to discuss the region's challenges and what collective and collaborative actions are necessary to advance clean energy needs.
The workshop opened with remarks from University of Washington Provost Gerald Baldasty, Vice Provost for Research Mary Lidstrom, and Clean Energy Institute Director Dan Schwartz.
Panelists from from local companies, national labs, and regional organizations led discussions about the opportunities for universities, industries, community stakeholders and the Department of Energy's national laboratories to leverage emerging clean energy technologies to stimulate regional economic development.
Governor Inslee, Secretary Moniz and Senator Cantwell presented views on the Pacific Northwest's role as an international leader in developing the technologies to power a growing 21st century clean energy economy.
Governor Inslee also took the opportunity to announce $12.6 million in Clean Energy Fund grants to five utilities in Washington. The grants will fund projects proposed by Avista, Seattle City Light, Orcas Power and Light, Snohomish County Public Utility District and Energy Northwest.