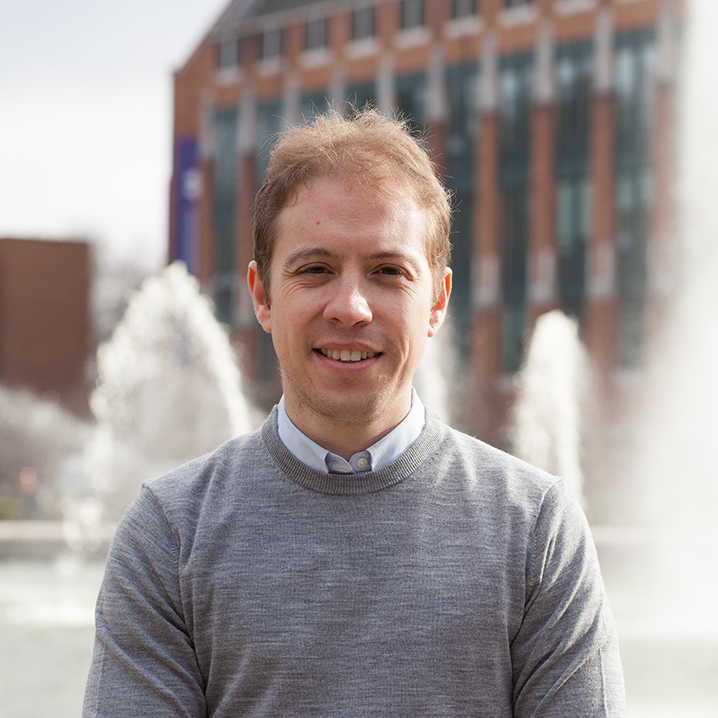 Professor Brian B. Johnson leads Department of Energy-funded research to halve cost of solar power electronics
Over a period of three years, Johnson's team will develop ultra-low-cost electronics that convert direct current (DC) power from PV arrays into grid-compatible alternating current (AC) power. Unlike conventional DC-to-AC inverters used today which require a bulky and costly transformer to step up the low voltage that they produce, the proposed architecture is able to produce voltages up to the tens of thousands of volts using only electronics. The newly-proposed inverter will be assembled from many interconnected modular blocks where each block features a novel circuit design, state-of-the-art silicon carbide semiconductors, and advanced controllers. The resulting blocks are lightweight, self-contained, and autonomously-controlled, such that the overall system is modular and resilient to failures. This revolutionary design will reduce initial material and manufacturing costs by 30-50% compared to conventional inverters, and will also give higher energy efficiency due to a radically-new circuit design and the elimination of the external transformer.
"This project unites some of the latest advances in power electronics, wide-bandgap semiconductors, optimization, and controls into a concrete approach for PV system design," said Johnson. "Along with the theoretical development of such a system, the hardware design phase will push the boundaries of what is physically possible and require us to think outside the box. Ultimately, the final prototypes must withstand extreme voltages and be amenable to low-cost manufacturing."
In spring 2018, Johnson joined UW as a Washington Research Foundation Innovation Assistant Professor of Clean Energy and Electrical & Computer Engineering. Previously, he worked at NREL, focusing his research on next-generation controllers and energy conversion circuits for power grids and renewable energy systems. Clean power generators like solar PV installations are naturally much more distributed and volatile than centralized fossil fuel plants, so power engineers must create advanced, automated controls to maintain grid stability during surges in energy demand and generation. For solar PV, the supporting hardware, including inverters, wiring, and racks, often costs more than the modules themselves.
Daniel Kirschen, Close Professor of Electrical & Computer Engineering, joined the DOE-backed team as an expert on the economics and optimization of power systems. He will play an active role in the design optimization phase, which aims to minimize system costs.
"While we obviously don't have to pay for the energy that the sun provides, the cost of deploying PV systems remains high," said Kirschen. "By optimizing the design of the power electronics, this project will make solar power more competitive."
In the first year of the project, Johnson's group will collaborate with CU's Colorado Power Electronics Center (CoPEC) to develop the distributed control strategies, build a low-voltage testbed using six of the circuit-control blocks, and perform preliminary tests. In parallel, NREL will obtain market data and collaborate with both Johnson and Kirschen to design a cost-optimized system. The optimization process will reveal the design (device ratings, number of blocks, and other component values) which minimize overall cost.
The developed controllers and optimized system designs will be finalized in the second year, and the team will perform tests of a 2kV block with Wolfspeed's latest devices. In the third year, Johnson's group, the CU team, and NREL will construct a medium-voltage six-block system, which will be able to produce 13.2 kV of grid-compatible ac power with very high efficiency. The demonstration will take place at NREL, using their state-of-the-art Controllable Grid Interface to emulate a 13.2 kV grid interconnection. The cost-optimized marketing plan created by the UW-NREL partnership will be presented at a final project workshop with industry participants.