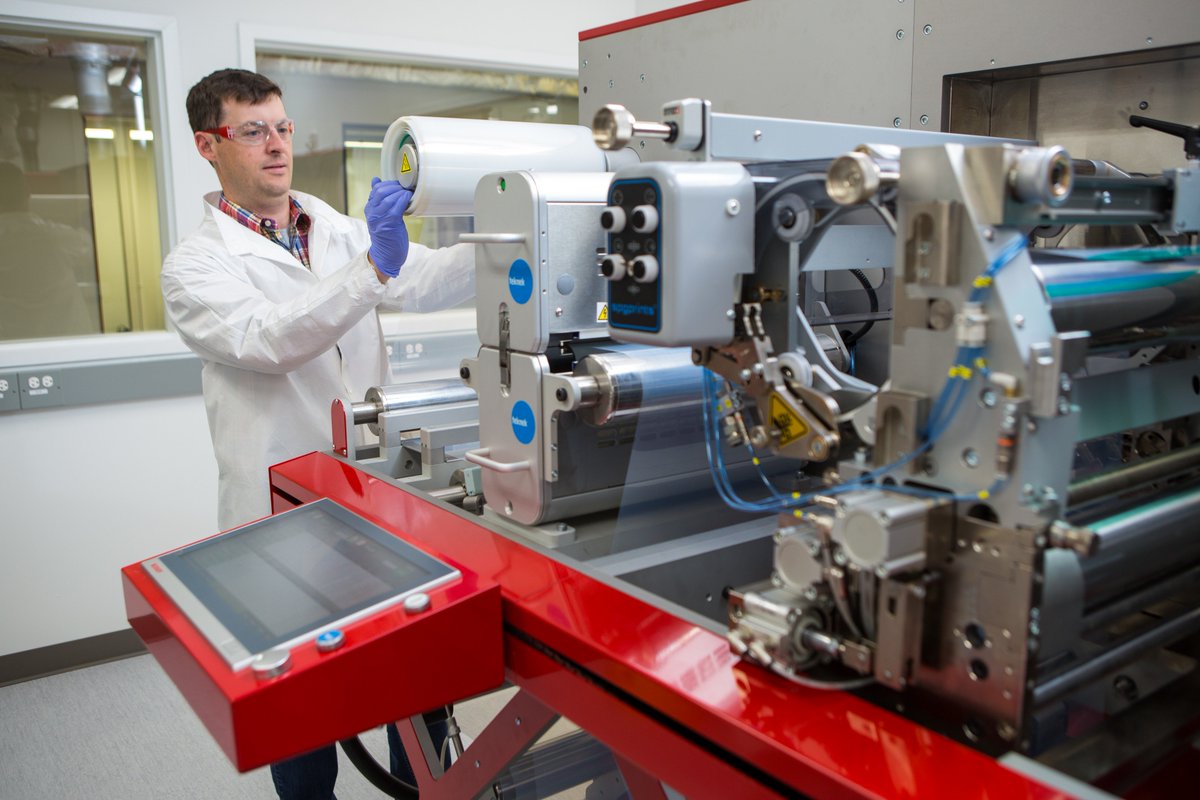 Northwest business community honors Washington Clean Energy Testbeds for contributions to local energy economy
Testbeds managing director Michael Pomfret wins CleanTech Alliance & Northwest Environmental Business Council Energy Leadership Achievement Award.
December 14, 2018
Two Northwest organizations representing the clean energy business community, the CleanTech Alliance and the Northwest Environmental Business Council (NEBC), have presented Michael Pomfret, managing director of the Washington Clean Energy Testbeds, with their 2018 Energy Leadership Achievement Award. The honor recognizes Pomfret's work to accelerate the pace of cleantech commercialization in the region and beyond at the Testbeds. Pomfret oversaw the development of this open-access facility for prototyping, testing, and validating solar, battery, and system software/ hardware integration technologies, from construction, through opening in 2017, to tremendous first-year growth.
The award was announced at the Energy Leadership Summit, where 400 industry leaders and policymakers from across the Northwest convened to address current challenges and future opportunities for clean energy. The CleanTech Alliance and NEBC highlighted Pomfret's accomplishments in not only establishing a state-of-the art facility to help users de-risk a cleantech concept, but also his work to create a supportive home for cleantech innovators to grow and attract investors to the region.
"This award from clean energy industry leaders is an acknowledgement that, in a very short time, we have created an important facility for cleantech innovation in the Northwest," said Pomfret. "I'm honored to receive this award and to work on behalf of UW researchers and businesses accelerating a clean energy future. I'm also proud that the Testbeds have attracted companies globally to do work here, and both in-state and out-of-state companies have hired UW graduates to work at the facility to advance product development."
Pomfret is an expert in energy materials and devices. He has a Ph.D. in chemistry and has worked on energy device development at the U.S. Naval Research Laboratory and for several cleantech startups.
"Mike has become an invaluable member of the Pacific Northwest cleantech community, and we can't agree more that he deserves this recognition for his leadership at the Testbeds," said Daniel Schwartz, director of the UW Clean Energy Institute (CEI), the organization that operates the Testbeds. "He has helped make the Testbeds into a dynamic realization of CEI's goals, showing that partnerships between researchers and innovators in the private sector are a viable and fruitful pathway for cleantech."
The Washington Clean Energy Testbeds serves a growing community of over 210 active users. This includes 29 cleantech startups, mid-size companies, and major corporations like Microsoft, as well as University of Washington (UW) scientists and engineers. Additionally, five of those 29 companies have operations based at the Testbeds where they use the facility's instruments, trained experts, and networks to build their startups or develop new product lines. Testbeds users pay a per-use fee to use state-of-the-art instruments and access UW staff. External users retain all intellectual property developed at the Testbeds.
To best serve this mix of large and small enterprises and UW researchers, and to foster a vibrant cleantech ecosystem for the region, Pomfret has implemented several specialized programs at the Testbeds. The Entrepreneur-in-Residence (EIR) program, launched in partnership with UW CoMotion, is for users and others in the region interested in launching clean energy businesses. EIRs host regular public events and office hours to council established entrepreneurs and students. The Testbeds also host an Investor-in-Residence (IIR) program as a free consulting resource for local startups with E8, a cleantech-oriented angel investment group.
Leveraging UW's clean energy research leadership and the Testbeds' unique capabilities, Pomfret and Testbeds Technical Director and Professor J. Devin MacKenzie have helped local startups and cleantech companies win major research and development funding to advance their technologies. One current Testbeds user, MicroConnex in Snoqualmie, WA, recently secured a $1 million federally-funded research grant in partnership with UW researchers. Vesicus, an advanced materials startup, recently won $225,000 in Small Business Technology Transfer (STTR) funding to develop nanostructured thin films for lithium-ion batteries at the Testbeds. Membrion, a UW spin-out and Testbeds user, just completed a $2.23 million seed funding round.
About the Washington Clean Energy Testbeds
The University of Washington Clean Energy Institute (CEI) created the Washington Clean Energy Testbeds to accelerate the development, scale-up, and adoption of new technologies in solar harvesting, energy storage, and system integration. This open-access facility in Seattle, founded on the principle that users retain all intellectual property, offers customized training and use of instruments for fabricating prototypes, testing devices and modules, and integrating systems. The facility also houses meeting and office space where users from academia and business work and collaborate. Through special events, Entrepreneur-in-Residence and Investor-in-Residence programs, and community-sponsored networking opportunities, the Testbeds are an active gathering space for cleantech innovators and investors. wcet.washington.edu