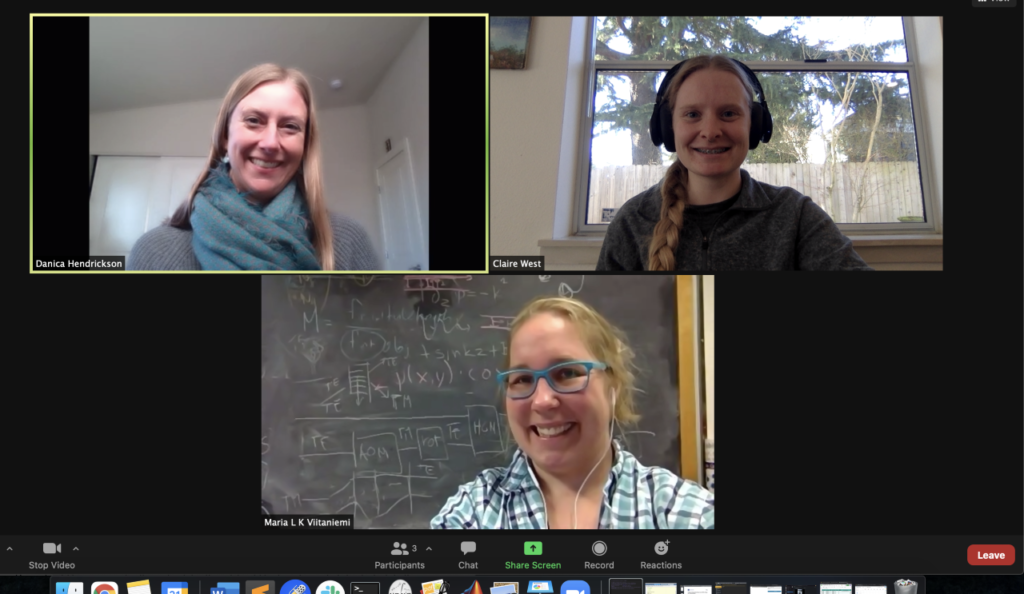 Meet the new CEI education team!
I'm Danica Hendrickson, the Clean Energy Institute's new Associate Director for Education & Workforce Engagement. In this role, I support K-12 educational outreach, the Clean Energy Bridge to Research summer research programs, and the CEI Graduate Fellowship program. And, I am thrilled to be here! This work brings together my passion for energy literacy, bridging the gap between research and science education, and my experience as a middle school science teacher.
I'd also like to introduce you to our new 2021 Education & Training Fellows, UW graduate students Claire West and Maria Viitaniemi. Through coordination, development, and implementation of outreach activities, CEI Education & Training Fellows support CEI's mission to expand the STEM workforce, increase research capacity, and improve public understanding of science.
Claire West is a fifth year Physical Chemistry Ph.D. student in Professor Masiello's research group. She builds theoretical models and develops computational frameworks to understand how light interacts with metal nanoparticles. When she's not writing code, submitting simulations, and doing math, she enjoys trail running, cooking elaborate plant-based meals, baking bread, and listening to podcasts. She's excited to work on designing new activities which will increase young students' enthusiasm for and participation in STEM.
Maria is a fifth year Ph.D. student in the Physics Department. Her research involves using lasers to study materials, so that these materials can be used to build new kinds of computers. In addition to conducting experiments, Maria often shares her science with broader audiences at events with the Pacific Science Center and UW Engage. In her free time, Maria enjoys taking dance classes and crafting play areas for her hamster.
As we begin a new year with a new CEI education team, we are eager to learn more about you and your passion for clean energy education. Every one of us at CEI is humbled by the role you have played in supporting students over the last year and look forward to learning how we can support you with our educational outreach. Please take a few moments to complete the survey below so we can hear from you about your virtual outreach needs.
Take the survey