Faculty and Students Present Battery Research on Capitol Hill
March 10, 2016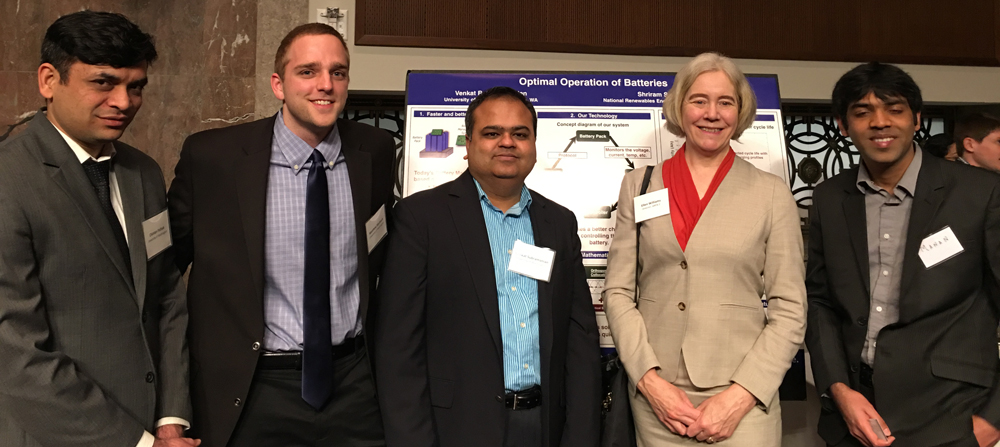 Photo caption: Prof. Venkat Subramanian and ChemE/EE student start-up Battery Informatics, Inc. members Chintan Pathak, Matthew Murbach, and Manan Pathak with ARPA-E Director Dr. Ellen Williams).
Energy entrepreneurs from the Clean Energy Institute earned an audience on Capitol Hill last week with federal government officials during the annual ARPA-E Energy Innovation Summit. A team of student and faculty researchers from professor Venkat Subramanian's laboratory were one of six groups invited to exhibit at a Congressional Showcase attended by elected officials and staff members.
Among the students presenting were Clean Energy Institute Graduate Fellows Matthew Murbach and Mannan Pathak who have created a company Battery Informatics Inc. The company develops software to optimize the life and value of batteries for energy storage.
"We are proud to have developed perhaps the best possible algorithm for simulating the performance of batteries, which is 100% fail proof," Subramanian said. "This invitation is an honor and a recognition of our quest for moving chemical engineering models to industrial practice."
"Innovation initiatives and entrepreneurship culture among the students will continue to play a significant role in research impact of many faculty members in the future," said Subramanian, who is the Washington Research Foundation Innovation Professor of Clean Energy & Chemical Engineering and also serves as the Chief Scientific Advisor at Battery Informatics, Inc.
Read more about the trip and Subramanian's research at the UW Chemical Engineering website. For a recap on the ARPA-E conference read Celebrating the Energy Entrepreneur at the 2016 ARPA-E Energy Innovation Summit.