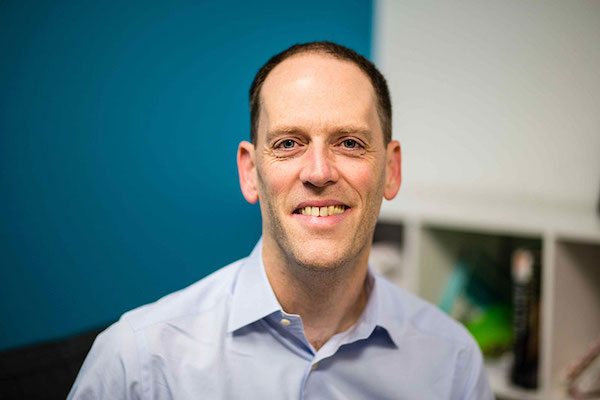 Energy software entrepreneur joins Washington Clean Energy Testbeds to coach cleantech startups
Scott Case named new Entrepreneur-in-Residence at University of Washington cleantech facility
December 19, 2019
Scott Case, former chief operating officer of EnergySavvy, an energy efficiency software company that was acquired earlier this year, is the new Entrepreneur-in-Residence (EIR) at the Washington Clean Energy Testbeds. As EIR at the Testbeds, an open-access facility for developing and testing energy devices and systems, Case mentors entrepreneurs and advises early-stage, cleantech startup companies on: team formation, product development, strategic marketing, fundraising, manufacturing strategy, and business development. His weekly office hours are free and open to aspiring and established cleantech entrepreneurs and business teams.
"I'm proud to serve the Washington Clean Energy Testbeds' mission to help impactful clean energy technologies get to market and succeed," said Case. "Over the past decade, I've learned a great deal about building a company that solves critical customer needs while having a positive societal impact, and I love sharing that knowledge with entrepreneurial students, researchers, and the broader cleantech community."
Scott joined the Testbeds after ten years at EnergySavvy, a company that built software for electric and natural gas utilities to manage and analyze their energy efficiency programs and customer engagement. Scott led product and company strategy, helped raise five funding rounds and ran the M&A process that led to its acquisition by Tendril, now Uplight.
"Scott's energy startup experience and passion for helping other cleantech innovators will benefit clean energy students and the region's cleantech community," said Washington Clean Energy Testbeds Technical Director Devin MacKenzie. "Our Entrepreneurs in Residence are one of the many critical resources—including access to our expert research staff and top-shelf instruments—that the Testbeds is pleased to offer and see benefit so many budding clean energy leaders."
Case is also the co-founder and board chair of Ada Developers Academy, a nonprofit, tuition-free coding school for women and gender diverse adults. He earned an MBA from the MIT Sloan School of Management and a BA from Williams College.
Case works alongside the Testbeds' Investor-in-Residence, Jeff Canin, who joined the team in 2017. Canin is a member of the Board of Directors at E8, a cleantech angel investment group, and a co-manager of E8's venture fund. Canin provides free consultations on funding proposals, financial strategy, fundraising, and strategic partnerships to cleantech entrepreneurs and startups via regular office hours at the Testbeds. In this role, he has also hosted several events with other E8 members for the cleantech community on identifying funding sources and raising startup financing.
Previous Testbeds' EIRs include Ramkumar (Ram) Krishnan and John Plaza. Krishnan is the former president and chief technology officer at NantEnergy, an Arizona-based company that produces grid-scale, rechargeable metal-air batteries. He currently advises several cleantech startups. Plaza is the board chair of Membrion, Inc., a University of Washington spinout company focused on ceramic membranes for clean water, lower-cost grid storage solutions, and longer lasting batteries. Plaza was introduced to Membrion at the Testbeds, where the company is a user. He also advises LanzaTech, a carbon recycling company.
To set up office hours with Case or Canin, contact Washington Clean Energy Testbeds Managing Director Mike Pomfret at mpomfret@uw.edu.