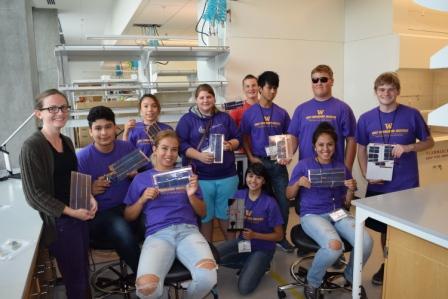 Early Engineering Institute 9th and 10th Graders Study Solar Power
Graduate student Katie Corp with high-school students from the Early Engineering Institute at the UW Molecular Engineering & Sciences Building
August 2015 — For the second year, the Clean Energy Institute teamed up with the UW College of Engineering's Early Engineering Institute (EEI), a free, four-day residential summer program for high-achieving 9th and 10th grade students.
This year's group of ten early engineering students learned about solar energy and production from CEI education director Shaun Taylor along with Katie Corp, a second year chemistry graduate student (PhD track) in Dr. Cody Schlenker's lab and Dr. Alexander Uhl, a postdoctoral research associate with Dr. Hugh Hillhouse's lab.
Each student was given a packet of solar cells and soldering materials. They designed a small solar panel following the engineering design cycle, assembling a prototype, debugging and finally encasing them in plastic. They learned how to solder, and how to work with delicate silicon cells, and finally produced working mini-solar panels.
"It was wonderful to watch these students' attitudes change over the course of only two, three-hour sessions," Corp said. "At first they seemed uninterested, perhaps because it wasn't their first choice of activity for the Engineering Institute.
They quickly became enthusiastic, however, when they realized the power they got from the solar cells could run a toy car. At the start of the second day, the students had ear-to-ear grins and couldn't wait to continue soldering their very own solar panel. Getting to watch scientific curiosity flourish in young students is why I love volunteering in our community."
The program is designed to strengthen students' math and problem solving skills, prepare students for applying to college, increase students' awareness and understanding of careers in engineering, and increase students' confidence through self-exploration, leadership and confidence-building activities. EEI gives students the chance to live and dine on-campus in a residence hall, visit real engineering labs across all disciplines, and study in engineering classrooms. These activities are all designed to expose and prepare students for advanced math and problem solving skills, which they will need upon entering into their next grade level.
It also allows graduate students at CEI the opportunity to share their excitement for science and the urgency for new, clean, renewable energy sources.
"Ever since I can remember, my father has talked about the world running out of energy resources. The passion and urgency from my father has turned clean energy production and storage into a passion of mine. I want to understand the energy transfer processes, and from that, figure out a way to make solar cells efficient and affordable," Corp said. "I reach out to the community to inspire young students to pursue science as a career as my family did for me."
For more on the Early Engineering Institute visit the UW College of Engineering.