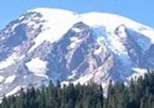 Early-Career Women Chemists Lean In and Branch Out
All young professionals and researchers can benefit from coaching on the topics of effective negotiation, communication techniques, and leadership skills. These abilities are even more important for young women scientists about to enter the workforce and those early in their careers, who often find themselves in the minority at their workplaces because of their gender.
The Clean Energy Institute was pleased to sponsor the 2015 Puget Sound Women Chemists Retreat, an annual event that provides a forum for women to build their professional networks and shape their careers.
More than 50 women and 17 speakers attended the conference in May, held at the University of Washington Pack Forest Conference Center in Eatonville, Washington. Scientists at the conference included women from 13 different colleges and universities, as well as researchers from the National Institute of Standards and Technology, Pacific Northwest National Laboratory, Boeing, and regional government. (Click here for a full list of speakers.)
Washington State Representative Gael Tarleton gave the keynote speech, which focused on defining your "code" for life and finding anchors to your work. According to Gael, her anchors include building community and guaranteeing clean air, water and food for every person. She challenged the conference attendees to develop their code based on their own life experience and ethics.
Among the comments from the participants:
"This retreat was completely refreshing. It reinstated a confidence within me that I was afraid I had lost."
"Thanks you so very much for the time and dedication to women and chemistry. I was not exposed to the workshops when I was at school. It was the first women science retreat that I attended, it was memorable and I will recommend to others."
"I was very inspired by the women who spoke during those two days. Their positive attitude and their optimism really showed me that with the proper mindset and hard work I can accomplish what I want for myself."
"Great workshop. I got a lot out of this. Please do this every year!"
Organizers plan to continue to expand the retreat and make it an annual event with support from the American Chemical Society Puget Sound Local Section and the Clean Energy Institute.