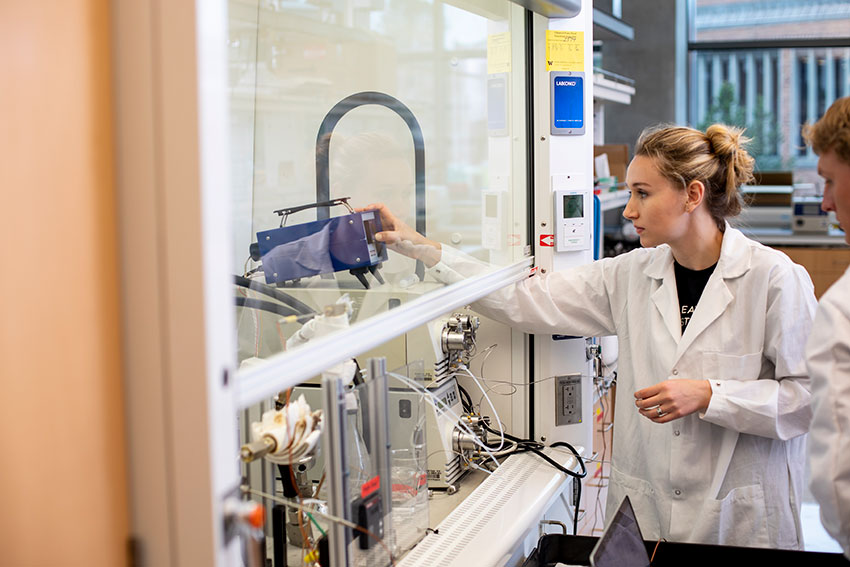 Clean, scalable materials for batteries and beyond
CEI Graduate Fellow Elizabeth Rasmussen is developing a low-cost, low-waste flow reactor for metal-organic frameworks, setting the stage for innovation in batteries, targeted drug delivery and more.
By Chelsea Yates
August 12, 2019
To explain her research — which centers on thermodynamics, heat transfer and a class of materials called metal-organic frameworks (MOFs)— Elizabeth Rasmussen often turns to a kitchen favorite: the chocolate chip cookie.
"MOFs consist of metal ions and organic linkers, and because they're highly porous and have an ultrahigh surface area, they are excellent candidates for applications ranging from targeted drug delivery to alternative energy storage devices, such as batteries," the mechanical engineering (ME) doctoral student explains.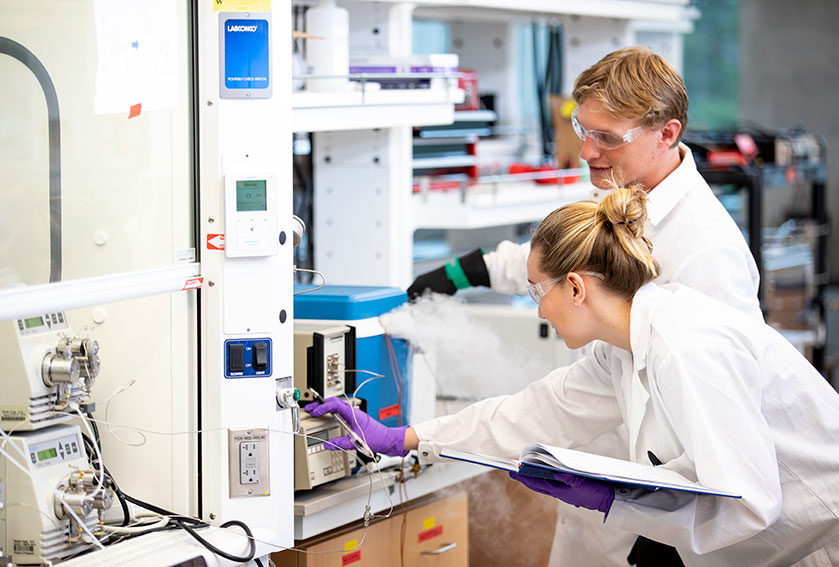 In cookie terms, Rasmussen says to think of the metal ions as chocolate chips and the organic linkers as the dough. But she's quick to add that she's not focused on changing the cookie recipe; what she's developing is a new way to cook the dough.
A National Science Foundation Research Trainee in the UW eScience Institute and a Clean Energy Institute (CEI) fellow, Rasmussen is investigating how to innovate MOF materials synthesis in a scalable, cost-effective and sustainable way. To produce them on a large scale and make MOF materials more broadly available, this synthesis step is critical; it's the key ingredient in her research, which draws from mechanical engineering, materials science and manufacturing.
And she's off and running: The team she founded earlier this year — MOtiF Materials — took first in the 2019 Alaska Airlines Environmental Innovation Challenge (EIC) for demonstrating how their work with MOFs can make batteries degrade less quickly over time.
MOtiF Materials technology
Smartphone owners are well aware of the frequent need to charge their phones. What if a phone's battery life could last 10 times longer than it does now? Research suggests that MOF-based batteries could make this possible.
To synthesize MOFs for battery use, Rasmussen has developed a novel flow reactor. It's the "oven" in her baking analogy. Current battery manufacturing processes create a lot of toxic waste; Rasmussen's reactor produces almost zero waste. It's also able to synthesize MOFs in a matter of seconds, as opposed to traditional methods which can take days.
A specialized reactor with cleaner performance and higher yield may seem expensive. Not so, Rasmussen says.
"Because our process is conducted at mild temperatures, it allows us to collect and recycle unused chemicals, we can create MOFs for considerably less than current options on the market," she explains.
It's this method that sets MOtiF Materials apart from its competitors, who tend to focus more on the "recipe" for creating MOFs, not the scalable manufacturing method needed to make MOFs more widely available.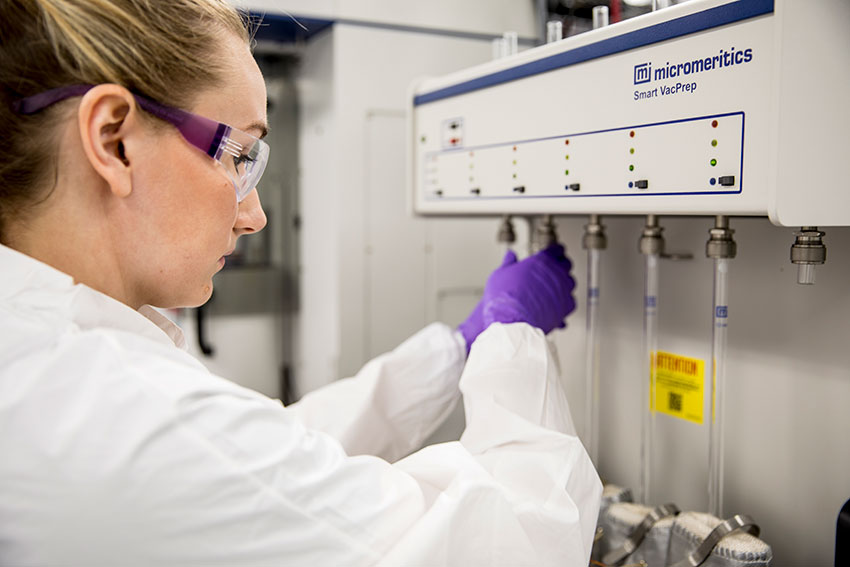 "It's all about the science"
Though there's momentum for innovation like MOtiF Materials in the startup sector, for now, Rasmussen says she's committed to the research. "This is my dissertation project," she explains. "Before exploring business opportunities, I want to make sure the research is 100%."
A commitment to research was the main reason Rasmussen decided to enroll at the UW for graduate school. A summer internship at MIT Lincoln Laboratory solidified her desire to be part of a research community. "I was in awe of the way that the researchers interacted," she remembers. "Even when they challenged each other, it wasn't to be competitive, and responses were humble. It all stemmed from their shared commitment to the mission."
Rasmussen sees much of the same collaborative spirit across the UW.
"CEI has helped me as a researcher in so many ways — with community, facilities and funding," she says. "Without it, MOtiF Materials wouldn't exist."
The same goes for her experience with the UW Buerk Center for Entrepreneurship, which hosts the EIC every spring.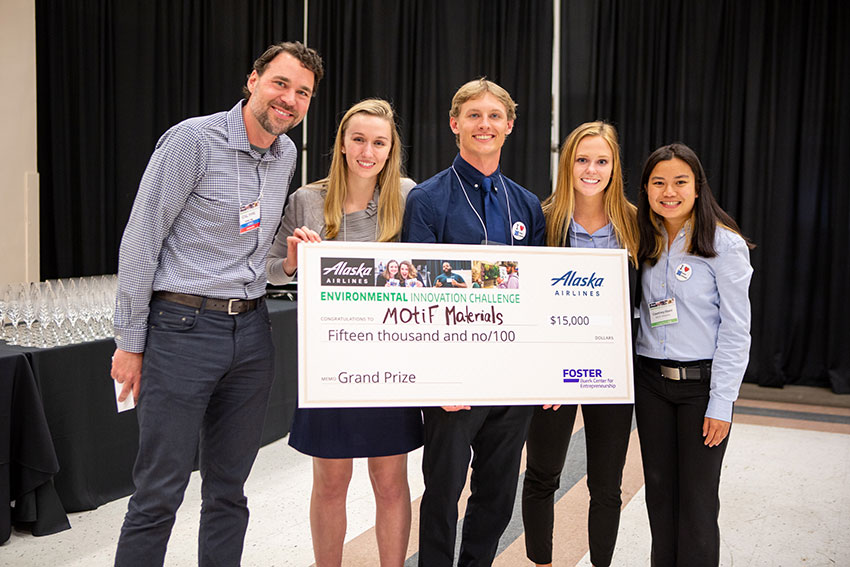 "The EIC opens up so many possibilities," she remarks. "Along with providing a friendly environment to apply business and marketing skills, it's helped me establish a network of professionals, potential partners and mentors."
Rasmussen also cites her ME faculty advisers Corie Cobb, John Kramlich, and Igor Novosselov for their support. "They have years of experience with science, engineering and technology translation," she says. "I value their expertise and really take their input to heart."
Though MOtiF Materials' focus has been on MOFs related to energy storage, Rasmussen is eager to consider its broader potential.
"Starting with energy storage technology is important because if you can improve that, you impact all other clean energy technologies," she explains. "MOtiF Materials' reactor technology is a platform — it can be used to synthesize much more than just battery-related MOFs, and I can't wait to extend it in other directions, like targeted drug delivery and water vapor capture."
For now, Rasmussen intends to optimize her design, finish securing intellectual property and publish her findings to the broader scientific community. While ultimately she'd like to work in a research and development laboratory, she hasn't ruled out turning MOtiF Materials into a business.
"In the future I may decide to move forward with creating a startup," she says. "But for now, it's all about the science."
This article was originally published by the University of Washington Department of Mechanical Engineering.