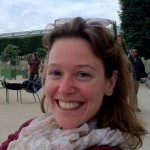 CEI Faculty Member Brandi Cossairt Named a 2015 Packard Fellow
The David and Lucile Packard Foundation has named the University of Washington's Brandi Cossairt as one of 18 Packard Fellows for 2015. The Packard Foundation chooses scientists in the early stages of their careers and supports the more innovative avenues of investigation that traditional funding may not give them the freedom to explore. The fellowship includes a five-year research grant of $875,000.
Cossairt and the members of her lab pursue research to synthesize and manufacture new molecules for applications in green tech, such as solar energy and fuel production. Her lab group includes Clean Energy Institute Graduate Fellows Michael Enright, Ben Glassy, Danielle Henckel and Jennifer Stein.
Many of Cossairt's research projects explore the light-interacting properties of nanocrystals. One goal is to synthesize new light-emitters for energy-efficient lighting and electronic displays. Other projects aim to produce new, efficient light-absorbing compounds for solar cells.
Cossairt's research also explores new methods for fuel production. Just as she hopes semiconductor nanocrystals could harvest light for solar energy, she is looking at how nanocrystals could harvest light directly for fuel formation, such as splitting water molecules to produce hydrogen. In a separate project, Cossairt and her team are exploring how nanocrystals could absorb a pollutant, such as carbon dioxide gas from industrial output, and convert it into octane, a useful hydrocarbon fuel.
Read more:
Chemistry's Brandi Cossairt named a 2015 Packard Fellow, UW Today, October 16, 2015
Major award will help young UW scientist capture the power of light, Seattle Post Intelligencer, October 20, 2015