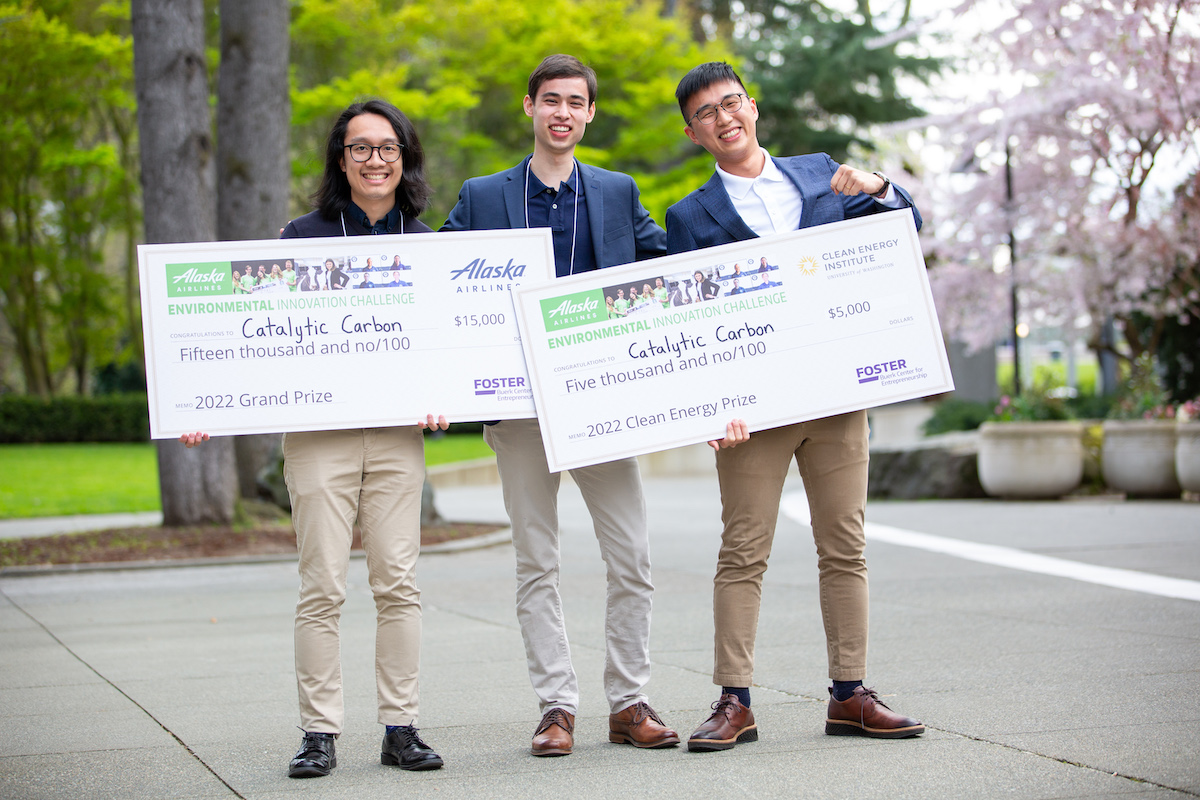 Catalytic Carbon wins Clean Energy Prize at Alaska Airlines Environmental Innovation Challenge
Catalytic Carbon, a startup co-founded by University of Washington (UW) students Carter Vu (B.S. Aeronautics & Astronautics '22), Ziming (Jimmy) Ye (B.S. Chemical Engineering, B.A. Biochemistry '22), and Owen Chen (M.S. Entrepreneurship '23), won the $15,000 Alaska Airlines Grand Prize and the $5,000 Clean Energy Prize at the 2022 Alaska Airlines Environmental Innovation Challenge (EIC), hosted by the Buerk Center for Entrepreneurship at the UW Foster School of Business. The Clean Energy Prize, sponsored by the UW Clean Energy Institute, rewards student innovations that can reduce carbon emissions through conversion and distribution, energy efficiency, and more.
Catalytic Carbon is commercializing a new recycling process out of Oxford University that utilizes microwaves and inexpensive iron-based catalysts to transform waste plastics into carbon nanotubes (CNTs) and hydrogen gas in just 90 seconds. The process works with five of the seven types of consumer plastic resins, including common consumer waste products like milk containers (high-density polyethylene), plastic bags (low-density polyethylene), food wraps (polypropylene), and plastic foam (polystyrene), expanding the percentage of recyclable plastics in the United States from 45% to 75%. With current recycling methods, only 9% of U.S. plastic is recycled correctly, while 15% is burned for energy and over 75% — approximately 35 million tons — ends up in landfills, according to the U.S. Environmental Protection Agency.
CNTs have unique electrical and structural properties, pointing to potential applications from semiconductors to advanced coatings and composite materials for boats and fighter jets. However, conventional CNT manufacturing methods can cost up to $50,000 per kilogram of product, depending on quality. Catalytic Carbon aims to dramatically reduce this production cost, while at the same time producing inexpensive and sustainable hydrogen gas. The company will aim to power its facilities by burning its produced hydrogen gas, emitting only water vapor. Once the business reaches appropriate scale, the company will pursue power purchasing agreements to sell hydrogen-derived power back to the grid at times of peak demand.
The Alaska Airlines Environmental Innovation Challenge at the University of Washington taps into the passion that university students have for solving environmental and cleantech problems. The 21 finalist teams for the 2022 EIC represented regional colleges and universities from across the Pacific Northwest, including UW-Seattle, the UW Global Innovation Exchange, Washington State University, the University of Oregon, the University of Idaho, and the University of Alaska-Anchorage. This year's EIC was the 14th edition of the event, with over $45,000 in total prizes awarded.
For more information about Catalytic Carbon, contact team lead Vu at cartervu@uw.edu.
Read about the other 2022 EIC winners on the Foster Blog.