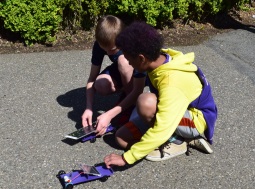 Outreach to the university, K-12 students and public is an important part of the CEI mission to increase public understanding of the promise of alternative energy, smart grids and storage systems. We want to get students interested in STEM careers by connecting them with our fellows who share their enthusiasm for science and engineering. CEI Clean Energy Ambassadors are graduate and undergraduate students who lead students in hands-on activities and present at community events such as the Pacific Science Center Engineering weekend, Engineering Discovery Days, and many other events. Ambassadors benefit by honing their skills at communicating science to the public and gain first hand experience with programs that support broader impacts. Washington state teachers can request a 4th-12 grade classroom visit by a Clean Energy Ambassadors for a classroom, stem fair or community event.
CEI ca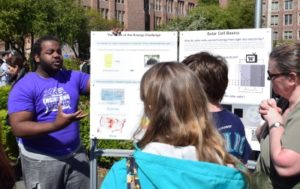 n also arrange an on-campus tour and/or workshop for secondary school groups. These typically involve about 1 hour of lab visits, a tour of  tools such as the electronic microscope, and some presentation and hands-on workshop. Due to heavily used instruments and busy labs we are limited to one tour event a month and a last-minute cancellation fee may apply.
Possible Ambassador Activities

to request a visit by a Clean Energy Ambassador! Please sign up 3-4 weeks in advance to allow us to schedule and find volunteers.
New! Teachers in eastern Washington can arrange visits from the Science in Action team at Gonzaga University, and the Collins Research Group at WSU.
More information about Clean Energy Ambassadors
---
Sign  Up to receive our Educators Newsletter
---
Washington Teachers Sign up to receive a free SunDawg Bag
---
Other Outreach Materials