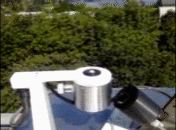 The CEI has established a shadowband radiometer and solar panel test facility on the roof the UW Power Plant building. The dataset from these two sources provides an opportunity for student exploration with data.
What does a Seattle Solar year look like in detail?
Over what time period to we collect 80% of the energy available for a year?
What angle is best?
What is the efficiency of commercial solar panels under real conditions?
Download Investigations with Solar Data Lesson Plan
Download 3-7-2015 Data
Download 3-22-2015 Data
Download Solar Radiometer Macro Mashup with Macros
Complete Radiometer Data Interface
Below is a live feed of todays solar radiation measurements.
What's Happening?
Can you explain the graph below recorded on August 21st 2017?

Links
Directions for building a homemade pyranometer